As an Amazon Associate, I earn from qualifying purchases
Let's face it; top quality table saws are not cheap!
Unfortunately, a decent number of models in the market require you to compromise power for versatility or spend a fortune to get the perfect combination of power, durability, versatility, and accuracy.
If you are searching for the best table saw under $1500, our guide will prove helpful. We took the time to search the markets for the best units that strike a balance between affordability and performance.
These are hybrid machines that are powerful and, at the same time, somewhat portable.
They are affordable to appeal to hobbyists and powerful enough to tickle the fancy of professionals. Dive right in and learn about the top 5 models.
Best Table Saw Under $1500 Review in 2023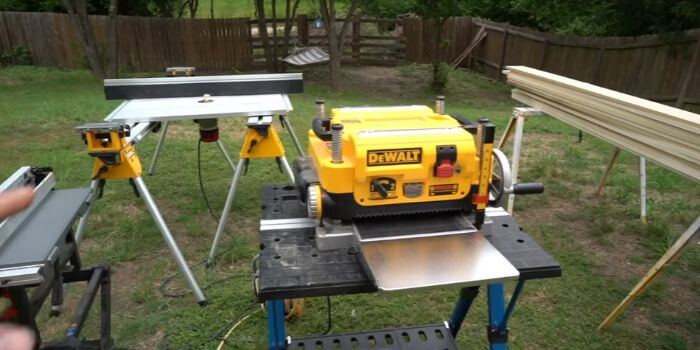 We roamed the market, tested dozens of machines, and rounded up the top 5. These are sturdy table saws that offer unrivaled overall reliability.
Check them out!
DEWALT (DWE7491RS) 10-Inch Table Saw, 32-1/2-Inch Rip Capacity
When dealing with tools from a brand that has been in the business for almost an entire century, you can expect the best performance and durability.
DeWalt is a company known for its top-quality tools, and the DWE7491RS 10-Inch Jobsite Table Saw is one of its most popular models. This is a compact size unit with a sturdy rolling stand.
With a 32.5″ rip capacity and a maximum cut depth of about 3.125″, this 10″ blade table saw can handle just about all kinds of light-duty board ripping tasks.
It has a 15 amp motor, which is fairly reliable for a job site level unit.
The feature that gives this tool an edge above its competitors is the built-in stand.
This makes it stable out of the box, and you don't need to build a custom stand to combat vibration.
There are wheels that you can attach to the stand for easy movement. This, coupled with the foldable stand design, ensures convenient moving and storage.
Table saws are essential woodworking tools. However, we cannot deny that they are also potentially dangerous.
Even though this model doesn't go above and beyond to offer the most exceptional safety features, it has all the basics covered.
The dust collection ports of this machine also make it a winner in its class. It comes with dual dust collections that reduce the needed cleanups after a project.
Right below the blade at the rear of the table saw, there is a 2-1/2″ dust port that connects to a vacuum with ease.
There is also a smaller 1-1/2″ port right above the blade that makes it effortless to collect dust above the table.
Rockwell RK7241S Table Saw with Laser
Compared to other brands such as DeWalt and Bosch, Rockwell is less prevalent. However, this may change soon because of the ever-rising popularity of the RK7241S.
It comes with all the key features of a premium contractor table saw coupled with some handy additions that enhance its quality and user-friendliness.
This unit has a powerful motor that delivers 4,800 RPM speed. It is just as loud as any heavy-duty table saw, and it features a sturdy 10-inch carbide-tipped blade with 30 teeth. This machine also comes with a blade guard, which is an essential safety feature.
Another notable feature is the extendable fence that gives the machine a maximum ripping capacity of 30-inches. This makes it ideal for wider cuts that require a larger workspace.
The only problem we had is that the extendable wing is crafted with hard plastic. I guess it is firm enough, although I doubt whether it can hold up to years of use.
What truly sets this saw model apart from other machines in its class is the innovative, adjustable laser.
It helps to enhance precision for those top-quality cuts. Regardless of your level of skill, it is remarkably easy to ensure your cuts are aligned correctly.
The laser creates a straight line of cuts, and this eliminates the need for aligning or tilting your blade.
You, however, need to note that the laser does not work using the same power as the table saw, and you need batteries to run it.
Related Review: Best Rabbet Plane
SawStop JSS-120A60 Jobsite Saw PRO with Mobile Cart Assembly – 15A,120V,60Hz
The SawStop JSS-120A60 is the best table saw for under $1500 in the market. This is one of the safest, yet most powerful machines you can use.
It is equipped with the patented blade braking technology from the brand. With this model, you get unrivaled protection and excellent functionality in one package.
The Quicklift and 1 Turn Elevation features allow you to lower or raise the blade with a single turn of the handwheel.
Being able to tilt the blade in an instant for bevel cuts is not just convenient, but it also saves time.
For unmatched precision, this machine has a T-style fence with Ergolock. The fence glides smoothly on the rails and locks in tightly to ensure the accuracy of your cuts.
This is a huge machine that weighs 113 pounds. Transporting and storing it is, however, not a hassle thanks to the collapsible cart.
In short, the model offers you quality, safety, precision, and convenience, irrespective of the specifics of the job you decide to take on.
One of the first things you are likely to notice is that this is a top-quality, heavy-duty unit.
It is made from heat-treated steel and features a carbide-tipped blade and sturdy expansion slots that minimize noise, vibration, and heat buildup.
If you are in search of a professional-grade saw for ripping and cutting both soft and hardwoods, this unit is an excellent option.
Suggested Topic: Aftermarket Bandsaw Fence Review
Shop Fox W1837 10″ 2 HP Open-Stand Hybrid Table Saw
The W1837 10″ from Shop Fox has managed to overshadow a decent number of hybrid table saws from bigger and more famous brands.
Its power, convenience, and functionality are hard to ignore. The unit has a powerful 2 horsepower motor that allows you to work on both softwood and hardwoods.
With a 10″ carbide-tipped blade with 40 teeth, you can work on just about any type of woodworking project.
This blade can be tilted up to 45 degrees, although you can adjust the cutting angle by merely loosening the tilt lock then gently turning the handwheel.
Thanks to the power of the motor, the blade can run at a maximum rotating speed of 3,450 RPM with no load.
Unlike a decent number of hybrid saws, the cutting performance of this model is quite similar to that of a standard cabinet saw.
In fact, users get additional features for the ultimate cutting experience.
Movement, as well as height adjustment of the table saw is easy-peasy thanks to the efficient riser system and the in-built caster wheels.
This will save you money because you don't have to invest in a wheelbase separately.
There is nothing to complain about the fence design. I can confidently confirm that this model's fence is only comparable to the fences of more expensive cabinet saws.
In case you don't work from a stationary workstation, just push the foot lever to lift off the fence, and lock it on either end for an outstanding cutting experience on your new location.
Delta Power Tools 36-5100 Delta 10-Inch Left Tilt Table Saw with 30-Inch RH Rip
Last but not least is the Delta 36-5100. This is a sturdy table saw that weighs 260 lbs. and measures 44″ tall and 57″ wide. It comes with just a few parts that are fast and easy to assemble.
The tubular stand, one swivel wheel, and two fixed wheels make moving the machine a piece of cake.
This tool has a dependable dual rip capacity of 15 inches to the left and 30 inches to the right.
Apart from having cast-iron extension wings, it also comes with an additional RH stamped steel extension wing for your convenience.
These features, coupled with the Biesemeyer fence style, make the unit ideal for larger, heavy-duty projects.
With 15 AMPs of power and 1.75 horsepower, you can expect nothing short of excellent performance from the model.
You will also enjoy a host of safety features including anti-kickback pawls, riving knife, a large on/off switch and blade brake stops that activate the instant you turn your power off.
The Delta 36-5100 is an upgrade of the Delta 36-5000. This new version is engineered to consolidate the best features of its predecessor and offer better mobility, durability, precision, and stability.
If you need the best table saw for $1500, this is a practical model to consider. We take pride in doing a thorough job when reviewing products. Well, the manual indicates that the rip fence is aligned at 90 degrees.
We noted that it was off by about .008″. It took us less than 5 minutes to make the necessary adjustments.
What to Look for Before Buying?
Whether you are a skilled woodworker or a weekend warrior, the hunt for the best table saw under $1500 can be unnerving.
Even for a skilled woodworker with years of experience using different table saws, the parades of brands and models in the market are likely to be overwhelming.
So, what are the most crucial aspects to consider before purchase?
Check out our detailed buying guide to find out.
Power
The power of a machine is arguably the first thing most buyers consider. For you to make the right choice, first think about your needs and the typical operations you intend to perform with your new table saw.
If you mainly handle moderate or light-duty work, choosing a unit with a 15 AMP motor is likely to be ideal. This motor is powerful enough to generate about 1.75 horsepower.
However, such a motor may not perform optimally if you mainly handle heavy-duty projects and cut hardwoods.
If you require a machine that can handle just about any woodworking project you throw at it, make sure you choose models with a more powerful motor. In this case, you need a unit that generates at least 3-4 horsepower.
Drive System
You can choose between table saws with a belt drive or a direct-drive system. Both options are great, and the ideal choice for you will highly depend on your needs.
Belt drive saws can cut through hard materials with remarkable ease, thanks to their high torque. They are, however, slower when compared to direct drive motors.
Among the key reasons why they appeal to many woodworking professionals are because they are located farther from the blade.
This protects them from dust, reduces the maintenance needed, and extends their lifespan.
Direct drive saws have their motors attached to the blades, and they spin them "directly" without the use of a pulley or belt system.
The major benefit of choosing a direct drive saw is that it provides higher working speeds.
On the downside, the motors collect a lot of dust, and this increased the maintenance needed.
Failing to keep up with the required maintenance routines can cause premature damage to your drive system.
Safety Features
Table saws, just like power saws, are inherently dangerous machines. For instance, a kickback can leave your arm in direct contact with the rotating blades causing amputation.
Irrespective of your level of skill, it is imperative to choose a model with adequate safety features.
Among the most important safety features is a blade guard. Also, consider choosing table saws that have a riving knife to prevent kickback.
Frequently Asked Questions
What does rip capacity mean?
This is the distance from the blade of your table saw to the fence on the right side. Models with a higher rip capacity can work with larger sizes of wood.
Can I increase the rip capacity of my table saw?
Yes, you can. Just build a separate table on the right side of your saw. This will create an extra workspace and automatically increase your rip capacity
Is there any difference between a table saw and a cabinet saw?
Cabinet saws are quite robust, sturdy, and heavy when compared to table saws. They also employ heavier gearing, trunnions, and arbor assemblies.

Hybrid table saws like the ones listed on our review provide the power and performance of cabinet saws, merged with the portability of table saws.
Are table saws with riving knives safer?
A riving knife helps to prevent kickback. While it is an essential safety feature of any premium quality table saw, it is still necessary for you to use proper techniques. For instance, never stand directly behind the blade.
What causes table saw kickback?
The most common cause of kickback is tension in a board. When cutting a piece of wood, the pressure prevents the kerf from opening fully.

In return, the end of the cut pinches together and traps the blade. This forces the wood to "kickback" in your direction at an incredible speed
Final Words
There you have it, a detailed review to simplify the process of finding the best table saw under $1500.
All the units on our list boast of the perfect blend of a compact construction and excellent mobility.
Their construction quality and performance assure you of getting the best value for your money.
We have provided a buying guide and even highlighted the top 5 models in the market. Go ahead and pick the machine that best suits your needs.