As an Amazon Associate, I earn from qualifying purchases
Rebate planes, commonly known as rabbet planes, help in cutting rebates in wood. These are step cuts into wood, like the ones on the back edges of wardrobes. They make it easier to fit that back edge neatly into place.
However, rebate joints are quite similar to butt joints but much stronger. They allow you to firmly join together two pieces of wood by their flat surfaces.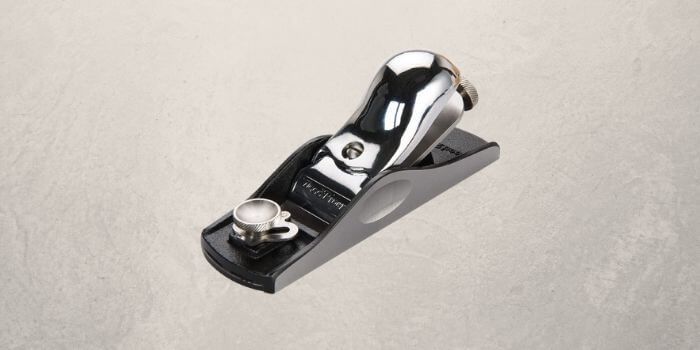 Finding the rabbet plane can prove to be unnerving. Just like most woodworking tools, this product, too, is available in a range of brands and models that can leave you a little confused.
The tools on our list help to ensure accuracy and reduce the frustration of creating rabbet joints that are not wide enough or deep enough.
They make it stress-free to sneak up on the perfect fit for all sorts of square corners.
Check them out!
10 Best Rabbet Plane Review
Rabbet planes play a specialized role when working on rabbet, mortise, and tenon joints. Their design makes it easier to remove shavings right into 90° corners.
Let's have a look at 10 of the most reliable models in the current markets.
Ulmia Rabbet Plane with Double Iron
The first product on our review is the Ulmia rabbet plane. We highly recommend it not only because of its affordable price tag but also for its high-quality that gives it an edge above other tools in its class.
This is a model that has also managed to attract tons of great user reviews.
Among its most attractive features is the high-quality iron and chip breaker to give your wood pieces a finer finish.
This tool also features an ironwood sole and adjustable mouth that can be modified using a wooden wedge.
Depending on your project needs, you ought to just tap the iron to get deeper cuts or gently tap the strike plate on the heel to make the cuts more shallow. In case you need to readjust from deeper to shallow cuts, just tap the wedge. It's that simple!
This rabbet plane is 10 5/8 inches long and 1 3/8 inches wide. It has a 49-degree cutting angle and weighs about 2 pounds. This makes it a perfect work tool for anyone who works for extended hours and is searching for a reliable yet affordable rabbet plane.
Related Guide: Best Aftermarket Bandsaw Fence
Woodworking Rabbet Plane, EnPoint Adjustable Wood Shoulder Planer
Whether you are a DIY enthusiast or a professional woodworker, there are good reasons to consider investing in a multipurpose rabbet plane.
The EnPoint adjustable shoulder planer is ideal for a range of tasks, including jointing, connecting, slotting, and grooving projects.
For making furniture, cabinets, doors, or windows, this is a tool that will come in handy.
One of the best features of this device is its size, weight, and portability. It weighs 2.3 pounds and measures about 25x 18x 6cm. This makes it a perfect choice for nomadic professionals who have to move from one site to another.
At a glance, it is easy to tell that this is a professional-grade plane. It is made from solid rosewood and features five blades crafted from durable, corrosion-resistant, and well-polished premium high-speed steel.
This plane also has an adjustable width for increased versatility. Simply twitch the double twist screws to switch to a different blade with a different cutter. The smart wedge, on the other hand, helps to firmly fix the blade, although it remains easy to remove.
Prettyia Good Quality Rabbet Plane Hand Wood Planer
If you need a multipurpose hand planer that can take on a range of slotting jobs, this is a perfect model to consider. It comes in handy when making furniture pieces like desks and tables, instruments like viola and violin, and even structures like windows and doors.
This is a well-constructed premium quality tool that is crafted for maximum durability.
Some of the impressive features include the premium rosewood body and top-quality high-speed steel blade. In case you don't primarily work from your workshop, you will appreciate the fact that this plane is small and portable.
It is lightweight enough to allow you to work for hours on end without suffering from hand fatigue.
Using the smart wedge, you can firmly secure the blade. The double twist screw makes it easy to ensure the adjustable width is steady, and your tool is safe for use. Moreover, the plane also features a 9.8-inch handle for more comfortable operations.
Suggested Topic: Chop Saw Review
Stanley 12-978 1-1/2-Inch x 10-Inch Bullnose Rabbet Plane
Stanley is a leading brand in the tool manufacturing industry. This company has over 175 years of experience up its belt, and it brags of an endless array of home improvement, renovation, and general maintenance tools. One thing that stands out about devices from the brand is that they are of high quality, yet easy to use.
The Stanley 12-978 bullnose rabbet plane is a superior finishing tool that is engineered to reward you with the detail you demand. This is a 10 inch long plane with a 1 ½ inch wide cutter.
All its moving pieces are machined for accuracy and precise results. The one-piece body and handle made of quality cast iron also help to ensure excellent performance.
With this plane, you get two cutter positions. The forward position is ideal for bullnose work, while the rear position is mainly ideal for regular work. Another feature worth mentioning is that the rear cutter allows precise depth adjustment.
This remains one of the most versatile rabbet planes in the market. Apart from the fact that it comes with a spur for working across wood grains, it also has an adjustable fence and an easy to remove depth gauge.
Grizzly Industrial H7567-8-1/2″ Duplex Rabbet Plane
If you desire a premium quality tool, but you don't want to spend an arm and a leg, consider investing in the Grizzly industrial H7567 rabbet plane.
It is precision milled and finely cast to create perfect rabbets with minimal effort and within the least time possible.
Just like the Stanley 12-978 bullnose rabbet plane, this tool too has two cutter positions. One is ideal for the usual rabbeting work while the other (forward position) is ideal for planning into corners.
Because this is a light unit that weighs 4.25 pounds approximately, it allows maximum productivity when working for extended periods.
This tool is packed with features that enhance precision. Some of these features include the edge spur for creating crisp edges, the depth stop, and also the threaded depth adjusting screw that ensures precise control of the iron.
In a wrap, this is a reasonably useful tool with a well-machined body, a flat sole, and a right side and offset arm that is perpendicular. However, the blade needs some work to get a good edge.
Stanley – 78 Duplex Rebate Plane
The Stanley 78 is the perfect tool for adding rebates to door frames and windows. It comes in handy when working on different types of joints for fitting backs into cabinets. This is a pocket-friendly frame that performs exceptionally well.
When compared to other products in the Stanley range of tools, this one is prevalent because it is engineered to serve as an essential unit for cabinet makers and carpenters.
This unit comes with a single cutter and 2 separate blade beds. The front one is for bullnose work, while the middle one is for regular work. In this case, the middle bed features a lever adjuster that allows you to change the depth of a cut and set it firmly using the depth stop.
One of its highly appealing features is the detachable single arm side fence that ensures precision to give wood excellent straight cuts. You can have the fence positioned on either side of your plane.
Then again, there is a single spur for scoring your workpiece, and this feature makes the tool more efficient and easy to use.
Stanley 12-140 No.92 Shoulder and Chisel Plane
Whether you are a professional or home-based craftsman, here is a shoulder and chisel plane that is likely to tickle your fancy. The Stanley No.92 is a larger version of the Stanley No.
90 shoulder plane. It has a longer body that allows enhanced control and finer cutting action.
This tool has a sole that measures 5 1/8 inches by 3/8 inches. You can adjust the mouth for fine or course work, and you even have the option of removing the entire top to convert your unit into a chisel plane.
This is a sturdy unit with a 4-inch long body that is nickel plated to make it rust-resistant.
The blade is extra thick with 1/8 inch A2 steel for excellent edge retention. This tool also features a cast iron base for enhanced accuracy and finger grips for better control. In short, this is a dual-purpose tool designed to ensure precision, versatility, and unmatched durability.
You can use the plane for cleaning shoulders on tenons for getting those glue joints cleaned up. It can trim 90 degrees inside corners on cabinets and even trim dowels flush, screw plus, and the edge banding off the plywood.
Faithfull No.778 Rebate Plane
With the No.778 plane from Faithfull, you can cut rebates up to 1.1/2 inches. This is a sturdy plane with a quality cast iron body and a ground base built for precision. It also features an easy to adjust the fence and two guide rods that can be pushed through to allow you to use the fence on either side of your plane.
The two-position cutter makes this one of the most versatile planes in its class. You can use it for not just rebate cuts, but also cross-grain cutting and bullnose work. The fine screw adjuster and accurate depth stop are vital features that help to ensure effortless control of the depth of cut.
This is a tool you will be happy to add to your collection. It works beautifully on different types of wood, including white oak, walnut, and maple. You are assured of smooth cuts and consistent depth of cut as long as your unit is properly set. Beware that the blade needs honing before use.
WoodRiver Low Angle Block Plane with Adjustable Mouth
Unlike previous WoodRiver hand plane models that required substantial amounts of tuning before use, the low angle block plane is ready for use right out of the box.
The brand has raised its game over the years, and the flawlessness and excellent performance of this well-machined tool tell it all.
With this model, the bed angle is at 12°— this is not so different from the bed angle height of the Stanley No. 65. This means the tool is perfect for cross-grain and end grain work. You can also use it for cleaning up rabbet and dovetail joints after assembly.
The design of the machine makes it one of the most useful general-purpose planes. It is engineered to take on all sorts of trimming tasks involved when fitting doors and drawers.
Furthermore, the 1/8 inch high-carbon steel blade is held firmly with a spring tension that locks tightly with a snap. This device also has a beautiful nickel-plated lever cap that provides great comfort when working for hours on end.
Other great features include the durable ductile iron body, adjustable mouth, and a perfectly flat ground sole.
Stanley 12-139 Bailey No.60-1/2 Low Angle Block Plane
If you are searching for a top-quality low angle block plane, Stanley 12-139 is perhaps the best option you have. This is a versatile tool you are likely to keep close you, irrespective of the specifics of your woodwork projects.
Whether you are a fine craftsman or a DIY enthusiast, this No. 60 ½ hand plane will prove to be a worthy investment.
The SW (Sweetheart) logo makes it clear that this is a premium plane. Sweetheart is a symbol that represents the quality of craftsmanship in the 1930s. To live up to the expectation of users, this model has a ground cast iron base, and a one-piece frog and base design to minimize chatter.
One of the highlights of this plane is that it has an adjustable mouth with solid brass adjustment hardware. This is a feature that allows you to reduce the tear-out and produce very fine shavings.
From performance to versatility, this block plane is only comparable to other high-end tools from big leagues such as Black & Decker.
What to Look for Before Buying a Rabbet Plane?
Rabbet planes are made of either metal or wood. They feature a very narrow iron that helps in carving perfect grooves and rabbets in pieces of wood. Just like shoulder planes, these tools also have blades that extend over their full width, and this allows you to cut the flat side of a wooden workpiece.
What makes rabbet planes different from shoulder planes is that they have a fence that keeps the cut flawlessly parallel to the edge of a workpiece.
Moreover, rabbet planes also feature a depth stop that ensures accuracy and prevents you from exceeding the depth of the cut.
Here are the most vital aspects to consider before purchase.
Material
Rabbet planes have been around for centuries. They are the predecessors of the chisel and the wood router.
Over time, the wind of change has altered their design to make them more aggressive and advanced. While some tools are made from all metal, others are made from composite material.
The products on our list are constructed using different materials, although they have not loosened their quality grounds.
If you decide to deviate from the tools we have recommended, beware of unreliable brands that seek to cut production costs by using cheaper materials.
Blade
While all rabbet planes feature an iron blade, the sturdiness of these knives is not created equal. Some blades are robust and reliable, while others are clumsy.
Before money changes hands, make sure that the quality of the blade of the tool you choose can hold up to rough use.
Ideally, you should take note of the thickness of the blade. This will determine its rigidity and ability to cut without causing chatter.
The last thing you need is to work with an overly flexible blade that leaves a poor and somewhat ragged finish on your workpieces.
As a rule of thumb, choose thicker blades. They offer better resistance to flexing for a noticeably smoother and visually appealing finish.
Metal or Wooden Body
Both wooden and metal-bodied rabbet planes have their perks and drawbacks. Planes with metal bodies are heavier and more durable, more so if you often work with abrasive woods.
Wooden bodied planes are lightweight, and this means less hand fatigue when working for extended periods. Unlike metal-bodied planes that can mark your workpiece, planes with wooden soles will ensure that you get a particularly elegant finish on any type of wood.
Ease of Use
Your level of skill should help you decide on the ideal rabbet plane to choose from. For the weekend woodworking worrier, using an upgraded tool can be frustrating.
Seasoned woodworking experts, on the other hand, can benefit from tools with some level of advanced technology. Before choosing a machine with futuristic features, evaluate your woodworking proficiency levels.
Frequently Asked Questions
Is a shoulder plane the same as a rabbet plane?
Shoulder planes and rabbet planes are similar in the sense that they both have blades that extend to their full width. This allows them to cut flat to the side of a workpiece. However, they also have physical differences that also make their functions vary.

Moreover, shoulder planes are more of trimming and finishing tools. They are commonly used for trimming tenon shoulders and cheeks among other cross-grain operations. Even though they can also be used to cut rabbets, they are slow and not so comfortable to use.

On the other hand, rabbet planes perform exceptionally at rapid stock removal. They are more comfortable to use and leave a beautiful, smooth surface.
How deep will my rabbet plane cut?
The proportion of the depth of a rabbet cut to the thickness of a workpiece is about 1/3. For instance, when working on a workpiece that is about ¾ inches thick, the depth of the rabbet will be about ¼ an inch and will not exceed ½ an inch.
What is a rabbet joint?
A rabbet also referred to as a rebate, is a channel or lip cut from the edge of a plank. To create a rabbet joint, you need to join the second piece of wood to the first one by setting its end grain to the rabbet.

This type of joint is commonly used when making cabinets to reduce the amount of end grain one can see at the corner.
How do I sharpen the iron blade?
You can sharpen the blade using oilstones, whetstone, diamond stones, or even a grinding machine. While some rabbet planes come with factory sharpened blades, others need sharpening before their first use.
Does my plane need any maintenance?
Just like the majority of woodwork tools, rabbet planes also need some level of maintenance. Typically, the soles of wooden and also metal-bodied planes wear out with time and become somewhat uneven. It is crucial to flatten the sole occasionally as part of the required maintenance routine.

Moreover, apply a light coat of tool oil on moving parts to protect the metal from rust. After using your plane, clean all components to free them of shavings and wood dust.
Final Words
Our list of the top 10 models should make it easy for you to find the rabbet plane. It contains a range of tools that vary in their features, functions, and price.
If you want an almost perfect model that is moderately priced, consider the Ulmia Rabbet Plane with Double Iron. In case you are willing to spend a little more to get a sturdier tool, choose the Stanley 12-978.
Stanley No.92 is, on the other hand, a perfect choice for those who need a shoulder and chisel plane combo.