As an Amazon Associate, I earn from qualifying purchases
Circular saws are versatile tools that can come in handy when completing several applications. With the right blade type, you can cut wood, metal sheets, masonry, and even concrete.
One of the prime aspects that you must not overlook when purchasing a tool is the level of noise expected during operations.
While you can use earmuffs to protect your hearing when using noisy equipment, the loud sounds are still likely to be a bother to your loved ones, neighbors, and pets.
Fortunately, a good number of manufacturers are currently using innovative technologies to make their products quieter.
In this post, I will help you find the quietest circular saw for all sorts of home improvement projects, including roofing, building and construction, carpentry, and plumbing.
Dive right in!
5 Circular Saw Review in 2023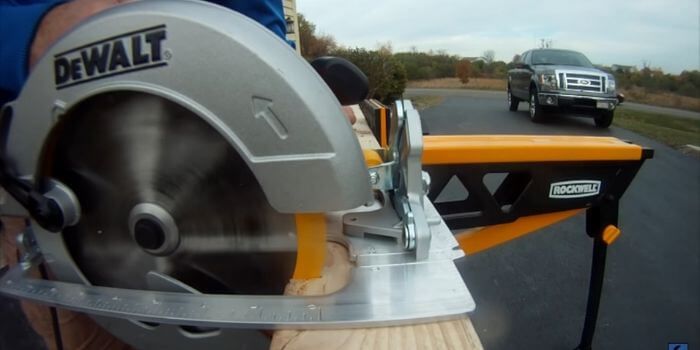 Did you know that loud noise does not always mean that your power equipment produces more power? The loud humming is nothing more than theatrics that has nothing to do with the performance of a tool.
Cutting down on environmental noise will, on the other hand, make your workplace safer.
Let's have a look at some of the circular saws in the current market.
DEWALT 7-1/4-Inch Circular Saw With Electric Brake, 15-Amp (DWE575SB)
First on our list is the DeWalt 7-1/4 inch. This is one of the best electric circular saws in the market that is popularly used by general contractors, remodelers, and farmers.
It is a tough tool with a suitable selection of in-built features that make it ideal for all kinds of heavy-duty home improvement operations.
One of the highlights of this unit is that it is ergonomically designed to keep you comfortable and more confident during the most demanding applications. The handles and trigger actuation have an ergonomic design for enhanced balance and comfort.
This machine has a compact design, not to mention that it is also lightweight. It weighs a mere 8.8 pounds, making it one of the most powerful yet lightweight machines in its class.
While it may be smaller than a decent number of popular circular saws, this is a beast with a 15 AMP motor that spins at 5100 RPM.
Another great feature is the 7-1/4 inch carbide-tipped blade. It offers a cutting depth capacity of 2 9/16-inch, which happens to be the best in its class.
The power of the motor, the cutting speed, and the sturdy blade all play a significant role in ensuring excellent performance.
This unit also boasts of numerous safety features, including a ToughCord cord system that makes the power cord pullout resistance.
There is also an electric brake designed to stops the blade in seconds when you release the trigger.
Additionally, the integrated dust blower keeps your line of sight clear for enhanced accuracy and smooth cutting.
Related Guide: Best Table Saw Under $1500
Rockwell RK3441K 4-1/2 inch Compact Circular Saw
Whether you are a professional woodworker, a craftsman, or a DIYer, you possibly understand the importance of having a unique tool for specific jobs.
The Rockwell RK3441K may not offer the most versatility or adaptability on your job site, although it performs exceptionally well when making precision cuts on smaller pieces of material or in small spaces.

This is a compact circular saw with a 4 ½ inch diameter blade that uses a thinner kerf. Thinner kerfs keep the blade cooler and ensure easier cutting. Then again, this saw has a left-hand blade design that enhances cut line visibility for better precision.
The arbor-lock button, as well as the easy-set depth gauge lever, makes it easy to change the blade or make cutting depth adjustments.
You are likely to reach for it anytime you are working in smaller spaces where you cannot use a larger saw.
The small size of this machine should not fool you because it has a reliable 5 AMP motor that spins the blade at 3500 RPM.
This is adequate power for working through plywood, baseboards, and crown molding. Take it from me; this machine takes the stress off creating those cuts that are almost impossible to make when using a more powerful circular saw.
In short, this is a smaller and lighter tool that also happens to be a lot cheaper than a decent number of well-engineered circular saws. It may not cut through hardwoods, but it takes on softwoods like a dream.
This machine has excellent ergonomics for enhanced handling and a dust collection system to keep your workspace clean.
Rockwell RK3440K Versacut 4.0 Amp Ultra-Compact Circular Saw
Let's be honest; bragging out a big, heavyweight power tool is good for the soul. However, technology has advanced tremendously over the years, and the current markets have compact circular saws that allow smooth operations with zero loss of accuracy or quality performance.
If you need a saw that is efficient yet easy to manipulate, consider the Rockwell RK3440K.
The slim design, weight, and dimensions of this model provide much more than just portability. They also proved to be particularly useful when working in circular and tight areas.
This is a versatile tool with fascinating features that can cut metals, wood, plastics, and other materials typically used for home improvement projects.
With this multi-function tool, you can cut a maximum depth of 1-1/16″. The 4-amp motor spins the blade at 3,500 rpm and provides adequate cutting power.
You can use the carbide blade or HSS blade depending on the type of material you want to cut. Because the cutting depth is adjustable, it should not be challenging to ensure the desired precision.
To further ensure accuracy, this tool has an in-built laser guide to give your cuts the much desired professional look. There is also an inline grip that enhances your control while promoting balance and safe cutting.
The small size and weight of the unit also promote safety by minimizing hand fatigue.
Suggested Topic: Rabbet Plane Review
Makita SP6000J1 6-1/2 in. Plunge Circular Saw Kit
If you want a compact and lightweight circular saw that offers more power, then this is the tool for you. It has a 12A motor that will set you up for success, irrespective of the cutting job you have at hand.
What's more is that this is a feature-packed, high-performance unit that comes at a low price.
One of the prime features is the 55-inch guide rail that helps in producing accurate cuts. Additionally, you can control the 2,000 – 5,200 RPM cutting speed using the speed dial.
The anti-tip lock, on the other hand, keeps the saw steady and firm on the track when working for smooth, splinter-free cuts.
To further enhance precision for quality cuts, the Makita SP6000J1 offers a -1 degree to 48-degree bevel capability with positive stops at 22.5 degrees and 45 degrees. The blade penetrates the material on a straight cutting line, even when making bevel cuts.
Although this machine uses the direct drive system, it still supports quiet operations. It has an in-built torque limiter that keeps the motor working optimally and prevents burnout.
Other great features include the dust collection system to keep your line of sight clear during operations.
This tool is engineered for trim work, remodeling, finish work, and cutting sheet material. It is a must-have unit for cabinet specialists, carpenters, flooring installers, general contractors, and woodworkers.
Even though it only weighs 9.7 pounds, it remains one of the most high-performance yet affordable circular saws in the market.
DEWALT DCS575B FLEXVOLT 60V MAX Lithium-Ion Brushless 7 1/4″ Circular Saw (Bare Tool)
Cordless circular saws are less noisy than their corded counterparts. If you want to invest in a powerful cordless unit, the DEWALT DC575B is an almost perfect choice for you.
I call it an "almost perfect" tool because it lacks a rafter hook, which I feel is an important safety and convenience feature.
This machine is just as powerful as the corded varieties, and it even features a full-size 7-1/4″ blade. It cuts like a corded power tool and has a powerful 15 AMP motor with 1,600 watts — just like a corded unit.
The only difference between this machine and a top-quality corded circular saw is that it runs on a Flexvolt battery that brags of several futuristic perks.
Moreover, the Flexvolt is a groundbreaking voltage-changing battery that offers 20V/60V. This ensures you get maximum power, depending on the specifics of your applications and the attachment you use.
When running on 20V, you get 6 hours runtime, and while using 60V, you get an impressive 2 hours runtime.
The ergonomics are on a whole new level. From the handle design and contoured grip to the offset pommel for your guide hand, this machine offers comfort and balance to keep you working for extended hours without suffering from wrist or hand pain.
For enhanced accuracy, this unit allows bevel and depth adjustments. It also features an LED whose brightness and placement is nothing short of perfect.
What to Look for Before Buying Circular Saw?
Yes, you want a circular saw that supports quiet operations. However, you also need to ensure that your tool of choice can get the work done.
Let me guide you through the most crucial factors to consider before purchase.
Noise Levels
Let's face it; even the best manufacturers are yet to invent a power tool that is entirely noiseless. Woodworking operations typically cause some level of noise. However, specific models maintain manageable noise levels that even make it unnecessary to wear earmuffs.
The models listed on our review are quieter than the majority units in their class. They also feature the belt drive system that is designed to produce less noise pollution that the direct drive system.
Power
For most people, the biggest deciding factor when choosing power tools is their level of muscle. Check the specs of different units to understand their AMP rating as well as their RPM. At the very least, your machine should have a 15 amp motor and a spinning speed of 4500RPM.
Adequate power and constant spinning speed ensure that a tool can slice through soft and hardwoods with remarkable ease.
A high-performance circular saw should glide with grace when making cuts to give users an excellent experience.
Bevel Adjustment and Capacity
One of the essential features of a circular saw is the ability of the shoe to tilt. You can make bevel cuts when you adjust your blade so that it does not cut perpendicular to your plank.
Your ability to make different angled cuts will highly be at the mercy of the bevel capacity of your unit. Be sure also to consider the positive bevel stops because they make work more comfortable, especially when making intricate cuts.
Corded vs. Cordless
Whether to choose a corded circular saw or a cordless one will highly depend on your budget, needs, and preferences.
If you merely require a tool for medium and light work and you need more portability and maneuverability, a cordless circular saw is your best bet.
On the other hand, consider choosing a corded machine if you mainly handle heavy-duty work. Units that rely on direct electricity have more powerful motors and bigger blades that run faster.
Just ensure that the power cord is long enough to allow more freedom of movement.
Safety Features
Saws are inherently dangerous power tools. To ensure your safety, make sure your device of choice has excellent ergonomics, and it is comfortable to handle.
Also, look for these safety features:
Frequently Asked Questions
What cuts can I make with a circular saw?
There are three main cuts you can make with your circular saw. They include plunge cuts, rip cuts and crosscuts. However, these machines can create many other cuts.
How do I ensure smooth cuts?
The easiest way to ensure smooth and straight cuts is by using the guide rail. Also, avoid over pushing the saw and instead get it clamped down.
Is it okay to operate my circular saw with one hand?
Depending on how comfortable you are using the machine, you may confidently operate it with one hand. However, it is better to use both hands for a safer grip, better control, and generally smoother working experience.
Are there ways to protect my wood when cutting it?
You could start by ensuring the pretty side of your wood faces downwards because your saw may make the top edge of the cut somewhat rough. In case both sides are pretty, fix masking tape on the surface before you mark the cutting line.
What is the average durability of the blade?
The longevity of a blade depends on its material, diameter, and the kind of stuff it cuts. There are telling signs that would indicate that replacing your blade is long overdue.
The first sign is a dull edge and chipped or worn-out teeth.

Your blade is likely to be at the end of its lifespan if it starts bending, it burns your wood, or it is hard to use. It is also necessary to replace a blade that badly defaces your workpieces.
Final Words
If you are searching for the circular saw, the models on our list are a sure bet.
These are high-performance power tools from renowned manufacturers in the industry who continuously strive to improve the safety standards of their products.
In my opinion, the best model is the DEWALT DCS575B. It is a cordless unit with a powerful motor and a reliable voltage-changing battery. This machine offers the high-performance of a corded circular saw in a cordless platform.