As an Amazon Associate, I earn from qualifying purchases
Which kitchen goes with a wood floor? Kitchen styles and tips!
Which Wood Floor suits Your Kitchen?
Do you already know which kitchen you're going to buy? But you don't know yet which (wooden) floor will go with it. Then you should read this article. This article is about wood floors in general and about different styles of kitchens, like a Scandinavian kitchen and an industrial kitchen.
For those kitchens, we give you the best floor that fits the kitchen style. In total, we will do so for four kitchen styles.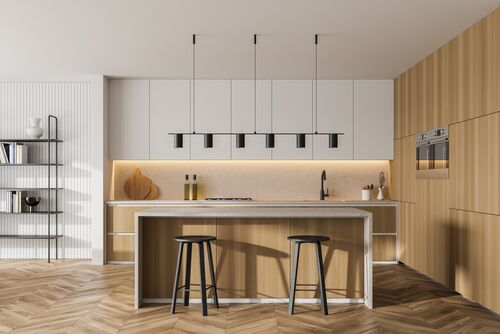 Can you use a wooden floor in a kitchen?
A floor adds a lot of atmosphere to your home. A wooden floor, for example, gives a warm and airy feeling.
The floor you choose will be in your home for life. So you need to think carefully about what kind of floor you take. By extending a wooden floor to your kitchen, you get a beautiful whole and it can complement your interior.
You may think that a wooden floor can't go with a kitchen because that's where you walk most of the time and you sometimes mess with water. But that's not true, a wooden floor goes well with a kitchen you just need to do a little more maintenance.
Wood Floor Maintenance
To maintain your wood floor you need to oil or lacquer your floor. You can use parquet lacquer. A Parquet lacquer is a lacquer with three or four layers. Your floor can then last fifteen years. You can also use floor oil, with oil you can also choose the color and shades.
You can also go and sand your floor when you go and sand the old coat goes away and a new one comes. I will only do that when your floor is over fifteen years old.
Tip: my preference is to do your floor with floor oil, because if you have a scratch in your floor and you want it done, with parquet lacquer you have to do your whole floor, with floor oil you only do that piece.
Related: Kitchen: ergonomics (tips for an ergonomic kitchen)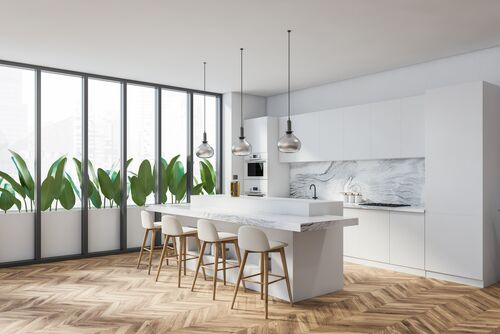 Scandinavian Kitchen
You probably know a Scandinavian kitchen, the style of the kitchen is very sleek. You can recognize a Scandinavian kitchen by the clean shapes and the use of white.
In the Scandinavian kitchen, the walls are often white, the ceiling is also often white. The white look gives you a lot of space in your kitchen. Besides the white color, you also have wooden accents in your kitchen.
The kitchen cabinets are also often painted white. You can also use only wooden cabinets in a Scandinavian kitchen. But usually, the upper kitchen cabinets are made of wood. You can also replace the upper kitchen cabinets with a wooden shelf (wall shelves).
Which Wooden Floor: Scandinavian Kitchen
To make it perfect, the Scandinavian kitchen needs a wooden floor. But which one? The best one is light colored wood.
With the combination of the white walls, clean shapes and the light color wood, you get a Scandinavian feel. If you want your floor to stand out a little more, I will recommend a herringbone floor.
The herringbone floor will stand out and the advantage is if you extend it to another room with a different atmosphere like modern, then the herringbone floor will also fit the style.
Country Kitchen
The country kitchen gives off coziness. The colors of a country kitchen are natural colors (white, black and beige). There is also a lot of wood in the natural kitchen.
The country kitchen gives off a lot of coziness so it needs a lot of stuff on it. Also, the kitchen needs a lot of sunlight, the sunlight gives you a good atmosphere.
The country kitchen often sits in an l-shape with the dining table nearby. Because the dining table is nearby, the floor gets dirty more often. So you need to clean the floor properly on a regular basis. Therefore, it might be better to choose a parquet floor or laminate that you can maintain very easily.
Which Wooden Floor: Country Kitchen
In a country kitchen, there are quite a lot of wood accents. Therefore, a wooden floor fits well with a country kitchen. Because with a country kitchen there is quite a lot of freedom with what colors you take.
Related: The right kitchen worktop for the kitchen (decision guide)
Do you need to coordinate your floor with your kitchen, usually a dark wood color fits best with a country kitchen. You can also choose to lay your wood in a pattern. Like a Hungarian point floor, that style goes very well with a country kitchen.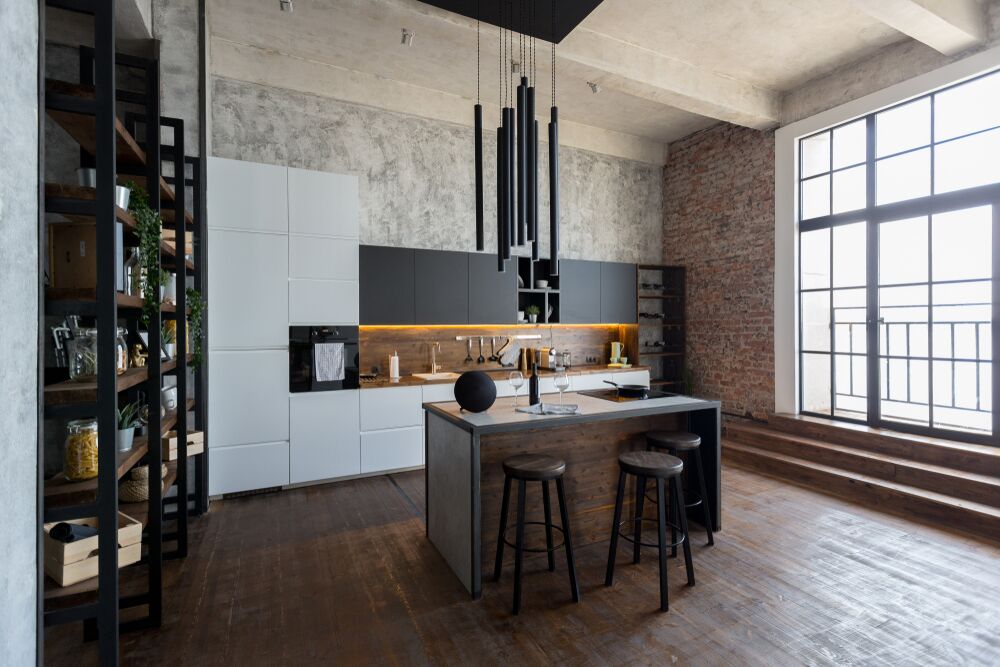 Industrial Kitchen
Industrial kitchen is the kitchen that has become increasingly popular in recent years. You can recognize it by the dark colors and a rough/tough look. This tough/rugged look is created by the spacious atmosphere and coarse materials.
In the Scandinavian kitchen, it is very sleek. The industrial kitchen is just the opposite, it has sharp edges and everything does not have to be perfect. The materials of an industrial kitchen are stone, wood, concrete, metal and stainless steel.
To make the look very industrial you should make the worktop as empty as possible in terms of electrical kitchen appliances.
What Wood Floor: Industrial Kitchen
The floors of industrial kitchens often have a darker hue. This can be done with a cast floor or with a wooden floor. If you take a wood floor you can choose two different types of wood. You can choose a light floor or a dark floor.
If you choose a light wood floor, you will get more light in your kitchen. If you already have enough light in your kitchen, then you should choose a somewhat dark wood floor. With a dark wood floor, you get even more of an industrial look.
Ecological Kitchen
Recently, more and more attention has been given to an ecological kitchen. An ecological kitchen is that some or all materials are reused or ecologically made. For example, you use wood and that tree from which the wood is made is planted back.
Because you reuse things, an ecological kitchen is also convenient for your wallet. If you want to buy sustainable wood, then you should buy wood that is certified by FCS or PEFC. The style of an ecological kitchen is akin to a country kitchen in that it incorporates some wood.
Which Wooden Floor: Ecological Kitchen
With an ecological floor, wood is often used. Also, the wood is usually reclaimed or FCS or PEFC certified. The color does not matter very much in an ecological kitchen. It depends on what shade you used with the kitchen. If you are creative you can make a herringbone pattern or some other pattern.
Related: Outlet kitchens: where to find the best kitchen outlets?
Summary
To refresh your memory we give you a summary for each kitchen.
With a Scandinavian kitchen you have a few characteristics, the characteristics are:
A Scandinavian kitchen has a lot of white walls.
A Scandinavian kitchen has a lot of wooden accents.
A Scandinavian kitchen is very sleek, an industrial kitchen is a bit chunkier.
A Scandinavian kitchen may have wooden kitchen cabinets or the kitchen cabinets are white. If you want a unique kitchen, then you should get wall shelves.
A Scandinavian kitchen is a minimalist kitchen, that means it gives a peaceful look
In a country kitchen you have a few characteristics, the characteristics are:
A country kitchen is a cozy kitchen, so feel free to put some stuff on it.
In a country kitchen, the dining table is very close, so you should give a lot of attention to your wooden floor.
A country kitchen has a warm atmosphere, to make the atmosphere warm you can put some cozy things near the kitchen.
A country kitchen has wooden accents, especially dark wood accents are used. You can reflect those accents in your wooden floor.
A country kitchen uses frills, that means small things for decoration in your kitchen.
With an industrial kitchen you have a few characteristics, the characteristics are:
An industrial kitchen has dark colors, these dark colors make the kitchen look very spacious.
An industrial kitchen uses raw materials.
An industrial kitchen is minimalist just like a Scandinavian kitchen.
An industrial kitchen uses stainless steel, the stainless steel gives you a tough look in your kitchen.
An industrial kitchen also uses concrete. You can use it as a work surface for your kitchen.
In an ecological kitchen you have a few characteristics, the characteristics are:
An ecological kitchen is a kitchen that uses materials that are sustainable or reused.
If you use wood in an ecological kitchen you must use FCS or PEFC certified wood. That wood is good for the environment.
I hope I have helped you with your future wood floor!
images: Shutterstock