As an Amazon Associate, I earn from qualifying purchases
Bandsaws are popular for coming handy when you need to shape a piece of lumbar to an irregular shape. This tool lets your creativity go into overdrive as it eliminates the need to cut wood in regular shapes only. But to get the best possible results, you need a fence.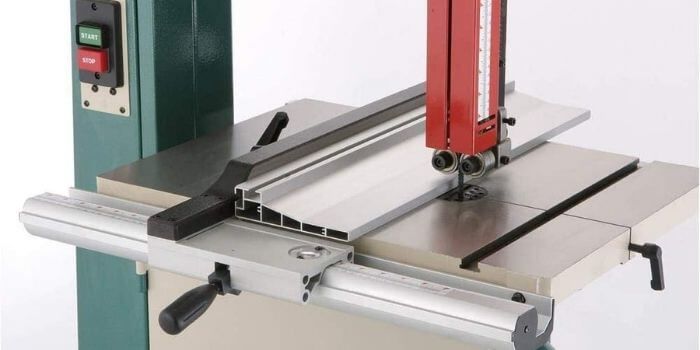 Quite a lot of people think that the fence is unnecessary, and you could do without it. In reality, yes, you could do without it, but if you are someone who thrives for perfection, you will soon realize the importance that this tool holds.
Finding the best aftermarket bandsaw fence can be quite daunting and confusing. So, this article will help guide you and inform you a bit more about the equipment to make sure you are completely satisfied with your purchase.
Why Aftermarket Bandsaw Fence?
Most high-end bandsaws come with their own fences. So why buy an aftermarket product?
Well, the reason is, the fence that usually comes with the saw is usually not sturdy and fit enough to be used.
A point to note is that the benefits you get from the best aftermarket bandsaw fence are incomparable to the ones you get from a free one. Most of the aftermarket fences have customizable options and features that let you play with the accessory and make it your own.
Fences that you get initially with a high-end bandsaw will not have as many features and qualities and will definitely let you down. They lack product longevity and precision.
Also, if you can't afford a high-end bandsaw, the saw that you buy will rarely have a fence. In a situation like this, it becomes crucial to buy an aftermarket fence.
Best Aftermarket Bandsaw Fences Review
In order to make things easier for you, we have done the legwork to find the top products on the market. Here are our recommendations for you:
Kreg KMS7200 Bandsaw Fence
Kreg is an extremely reputed brand when it comes to producing the best aftermarket bandsaw fences. Their early products have bought the company a lot of goodwill. And the qualities of their earlier bandsaw fences have carried into this one as well.
Like their other products, this one is built very well. All the parts are robust and inspire confidence. Now, the fence is 18″ long and will be an ideal fit for 14″ bandsaws. Also, the mounting rail is no less than 26 inches.
The makers have made sure that this one is easy to install and remove so that there's less downtime. Thus, you won't have to spend much time attaching and remove it. The model employs bolts in order to lockdown.
Now, I need to tell you that the product doesn't lock down on both sides of the project. I know that it may cause some people to doubt the fence. However, I can assure you that this one holds well and won't let your project slip.
Also, I'd suggest you visit the website of the manufacturer before you decide to purchase this thing. They have provided a chart on their website, which will help you decide if it fits your bandsaw and if you will need to make any adjustments.
Overall, it's a really good bandsaw fence that provides great value for money and is able to perform its tasks properly.
Highlighted Features
CARTER MAGFENCE II Universal Magnetic Fence
This one is another brand that has won the hearts of its consumers with its high-quality fences. And this product is also of top-notch quality and will add a new dimension to your bandsaw.
The unit comes with two switchable magnets for the lockdown. Once you have set them up, they will hold onto the workpiece tightly so that there's no chance of a slip. The magnets are about to handle 90 pounds, which is more than enough for a bandsaw.
Now, you'll see that there are about four slots where these magnets can be placed. Usually, when the package arrives, you'll see the magnets on the outermost slots. But what if you have a not-so-large table? Well, then you can always move the magnets.
Some users have complained that their fences weren't square and weren't ready for immediate use. If it turns to be true in your case as well, just add a few strips with the help of masking tapes. Your problem will get solved.
Regarding the construction of the fence, you can hardly complain. It has been built with top-notch technology and is solid. The movement of the fence is quite impressive as well. This fence is 16″ long, so it will be an easy fit with most of the bandsaws.
The installation is quite easy, and the process is instinctive. So, even if you don't have much experience with these types of machines, you won't have any problems.
Highlighted Features
POWERTEC BS900RF Rip Fence
When it comes to rip fences, Powertec really rules, as they are highly popular among woodworkers. That's because they deliver what they promise, which is top-notch quality.
That's why their products are at the pricier end of the spectrum normally. However, you can't deny that the price is worth it after looking at its features.
Now, this one comes already assembled so that you can use it out of the box. You won't have to waste your time on putting together the whole thing, which is a great plus. Thanks to the adjustable cam, you can adjust this thing from 11-1/8" to 11-13/16".
In order to clamp down the workpiece, this one uses a cam lever action. The hold is really good and should relieve you of any worries. However, you will need to make some adjustments to the tension first. You can do that with the help of a lockdown knob.
This one measures 12-inches in length and 2-inches in height, which shouldn't be a problem for most bandsaws. That said, this one is made for 9″ Powertec saw. So, if you have the Powertec saw, that would be great.
Though the product is designed for 3 different bandsaws, there's no manual included in the unit. So, without the necessary instructions, it can be a bit difficult to make the adjustments for the bandsaws. Therefore, you might need time to find the perfect combination.
The quality of the parts is simply amazing. Overall, this fence has the ability to make your bandsaw a precision instrument.
Highlighted Features
RIKON 13-900 14-Inch Band Saw Fence
Rikon has made its name for coming up with a quality fence at a reasonable price. And this one follows the norm as well. The soundness and quality of the construction are similar to the UniFence. That speaks volumes of the quality this thing has.
It has made the installation really quick and easy by providing all the hardware in the unit for the installation process. The removal is also quite easy and shouldn't cause you any issues.
There's a drawback of the product that I think you should know of. The bolts that hold down the product to the bandsaw are very tight, which can result in the deformation of the fence.
Now that might not be the case in every product, so you should inspect carefully. However, it's certainly not a deal-breaker.
The price is very reasonable for a bandsaw fence and should certainly make you happy. Despite the low price tag, the makers have maintained the overall quality of the product. So, kudos to the makers.
You can use this thing to adjust the blade drift as well. And if you wish to employ it for re-swing, you have to collect some long plywood first.
I wish the makers had provided an instruction manual for the adjustments. That would have made things easier for the newbies.
Highlighted Features
Grizzly Industrial H7587 – Resaw Fence Complete for 14″ Bandsaws
I'm fully aware that some individuals might have misgivings about Grizzly. Though this brand has produced some really great fences, they have made some below-par ones as well. However, let me assure you that this one is a hit. Otherwise, it wouldn't get a mention on this list.
In addition to Grizzly bandsaws, this one is able to work perfectly well with other bandsaws as well. It's not like any other standard fence system and is highly versatile in terms of operation.
Also, it would work best with 14×14 tables. That said, it isn't incompatible with other tables. When you pick up this thing, you'll notice that it's quite heavy. That indicates how well-built this fence is.
Keep in mind that the provided screws might turn out to be a bit short. So, you may need to purchase longer screws separately, which you can get from any hardware store. It's a minor annoyance and certainly not worth backing out of the purchasing decision.
The locking mechanism inspires confidence and allows you to go about your business without any worries. You can take on any project with this one at your side.
I need to inform you that the ruler sticker is a bit hard to read. So, you may need to buy a new ruler sticker if you go ahead with this one.
Highlighted Features
How to Know You're Buying the best aftermarket bandsaw fence?
As we've mentioned before, buying a good bandsaw fence can be quite tough. To get a general idea about some of the key features you should look out for, take a look at the points below.
Locking Mechanism
To get the best results while sawing wood, you need to make sure that the fence you buy has a sturdy lock system.
If you place your lumbar on the position that you want and it slips as soon as you get to a tricky part, you won't be able to achieve the design and pattern that you need. A flimsy lock system could also cause accidents. You obviously don't want any slippery tools around a bandsaw.
Magnetic and cam locks are two of the most popular options that you have to choose from. Cam locks are quite secure but take some time and patience to get to work. Magnetic locks, on the other hand, are quick, easy, and also quite reliable.
Compatibility
As you would do with any other accessory you buy for your tool, you have to look for compatibility between your bandsaw and fence.
Lots of different brands make bandsaws, and therefore they have different shapes and grooves. You can get a few universal fences that can be used with a lot of bandsaws, but most manufacturers do not make fences that suit all kinds of it.
So, you might have to look at the fence's specifications to check if the tool can be used with your bandsaw.
We recommend you do this before your purchase as it is quite a crucial element.
Material
Fences for bandsaws are made with lots of different materials. This depends on the brand and also the price you are getting it at.
For example, a cheaper fence will probably be made out of plastic, while an aluminum one will be more expensive.
You want your fence to be quite sturdy and durable. This is the kind of tool that shouldn't need much replacing. Most good quality fences actually outlive the bandsaw itself.
We recommend getting an aluminum fence if you want a long-lasting accessory. However, if you feel like you won't be using the bandsaw and the fence as often, you could easily buy a plastic one.
Ease of Installation
If you can find a fence that is compatible with your bandsaw, then setting up the accessory afterward should be easy.
Avoid getting fences that require too much time to install and give too many steps to follow. Overcomplicated products are always a bummer.
Size
This will depend on the size of the wood you work with. If you work with average-sized pieces of lumbar, you could buy a medium-sized fence.
But we do recommend buying a bigger one if you have the budget because you never know what size you might be working with in the future.
Best Aftermarket Bandsaw Fence FAQ's
Here are some questions that most consumers have when buying a fence for their bandsaw for the first time or purchasing one from a different brand.
Is having a fence for my bandsaw essential?
This tool will let you cut the wood in any shape you like with ease. The blade will just glide along, and you'll get sharper and more precise cuts.

The tool also helps resaw wood into thinner pieces. So, yes, it is essential.
What are the materials that the aftermarket bandsaw fences are made of?
Aftermarket fences can be made out of many kinds of materials. The most common being plastic, aluminum, and steel. Aluminum and steel fences are sturdier and make the product last a long time, while plastic ones are a good affordable option.
Do I need to reset the fence when I work with a different kind of wood with different dimensions?
If you follow the steps accurately while setting the fence up initially, you won't have to reset it ever again. The tool will work with all types of wood of any dimension. However, if there was a problem with the initial installation, you might see that the fence is not cooperating. Only then you will need to reset your fence.
Conclusion
Once you know how this fence works and why it is necessary when carving wood, you will realize how important this accessory is and how much it brings to the table.
Focus on the features you need, and you'll find the best aftermarket bandsaw fence. We're sure one of the products that we have mentioned on our list will be the perfect fit for you.