As an Amazon Associate, I earn from qualifying purchases
Necessity is the mother of innovation, and the last few centuries have seen unparalleled innovation in every sector.
While tools like drill machines, lathes, mills have made life more comfortable and production faster, the band saw has attracted a lot of attention.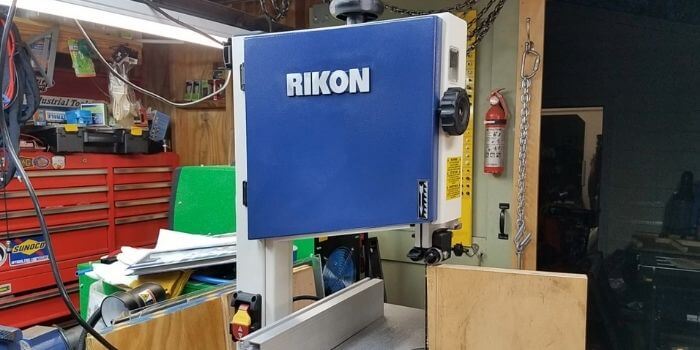 Wood and metal cutting is challenging and time-consuming. A band saw throws all that out the window and hastens it up. Used in millions of homes and factories, band saws have become popular.
Reading this, no doubt you are looking for a band saw for work. We will get you one, but ours will be the best band saw.
We will review the top 5 brands and provide pointers for you to make a selection. So read on!
Benefits of Using a Band Saw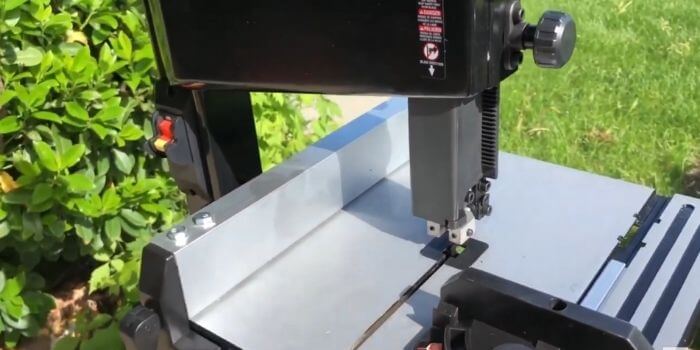 If you invest in a band saw, it is not a bad idea to know how it can come in handy. It makes things downright simple.
That is why we have taken it upon ourselves to highlight some key benefits of using band saws.
Cut Precise Amounts
In the olden days, cutting wood or metal used to be a time-consuming process, and cutting exact amounts was close to impossible by hand.
However, a band saw can circumvent that problem and cut very precise amounts of material.
If you are using it in a large factory, you will have a fixed requirement, and a band saw can meet that.
Safer Than Conventional Saws
This may sound strange at first, but band saws are safer. They have a safety mechanism in play, like a kill switch, and you are not in danger until you put your hand right on the running blade (which we don't recommend!)
Cuts Faster, Saves Time
Time is money, and a band saw saves you both. With its high speed, you can cut through several meters of wood or metal in less than an hour.
This can be fine-tuned, of course, unlike many other tools, where you have one speed to work with.
Best Band Saw Review in 2022
Time for the reviews. In this section, we will introduce to the top brands of band saws and provide their pros and cons so that you can make an informed decision.
WEN 3939T 2.8-Amp 9-Inch Benchtop Band Saw
To kick off, our best band saw reviews. We will start with the 3939T from WEN.
This band saw comes with an ultra-powerful 2.8 amp motor to ensure your task is done quickly and with minimum fuss.
The motor is capable of providing a blade speed of up to 2460 feet per minute.
At this pace, you can cut through your target material with ease and minimal effort.
This product can provide cuts that are 3-5/8 inches deep and have a net width of 9 inches. That is more than enough for most standard tasks.
With this product, making different types of rip and crosscuts has never been easier.
Equipped with a unique blade tension gauge, it is possible to assess whether the blade possesses enough tension during operation.
Furthermore, the worktable is more than adequately sized and spaced. Measuring in at 12 by 12 inches, you do not have to be worried about running out of space when using this band saw.
A noticeable feature of this product is the blade size. At 62 inches, it cuts through wood and metal as smoothly as a butter knife goes through butter.
You will also achieve uniform cuts ranging from 1/8-inch to 3/8-inch in size.
You should always have your best tools nearby, and this product fits that category.
Being easily portable, you can travel with it, making it easier for professionals who are always on the go.
Latest Guide: Best Radial Arm Saw
Rikon 10-3061 10-inch Deluxe Bandsaw
The 77.5 pound 10-3061 from Rikon is the ultimate band saw for all your cutting needs.
Rikon has been making high quality, unmatched power tools for years, and this product, with its dual-blade settings, make it the go-to product for most people.
Engineered to perfection, this beast of a band saw comes with a highly efficient, robust 0.5 HP motor.
At 5.5 amps and running on 110 V, the motor will get you through strenuous medium-sized and small scale projects, such as for university or work.
The 6TPI blade is marvelous and an epitome for producing smooth, uniform cuts.
When working with metal and wood, you will seldom find a better blade to get the job done.
This is because the blade cuts at an astounding 1720 RPM, which is quick enough to slice through stuff in the blink of an eye.
If one blade is not enough for your needs or you think you need a different type of cut, then you are provided with the option of another blade.
Using these two blades, there are tiny things left that you will not be able to cut.
With the blade guides in place, you are provided with ample safety while operating this fantastic machinery.
Furthermore, the manufacturers understand how messy a workplace can get during sawing; hence the dust port comes with a vacuum hookup, which keeps the surrounding clean.
SHOP FOX W1715 3/4 HP
Shop Fox stores bring you the W1715 metal cutting band saw, a product that has been designed to provide the utmost convenience and the least hassle.
The 0.75 HP motor speaks for itself. It is immensely powerful, and this power is not wasted, as it powers a blade that measures up at 64.5 inches.
This blade can provide different cutting speeds depending on your needs. At 78 feet per minute (FPM), you are provided with 40 RPM.
At 60 RPM, you are provided with 108 FPM, and at 80 RPM, you will get 180 FPM.
With so many different speeds to choose from, you can complete just about any task.
When it comes to convenience, there are a few that match this product. With wheels for portability, you can push it around from place to place and change when workspace whenever needed. Just use the handles to get it moving.
Also, a critical feature that this product comes with is the shutoff feature. This shut-off feature is fully automatic, and in times of danger, this is a boon.
If you desire more than one type of cutting or mix things up a bit, this product altogether gives that option. You can select from types of cutting: horizontal and vertical.
With vertical cuts, you can create various patterns and curves. This comes in handy when you do not want to cut through the entire workpiece in one go.
On the flip side, horizontal cuts are better for making repeat cuts. When you want to cut the same length and depth each time at regular intervals, the horizontal cut feature will not only make this possible but also relatively easy.
Related Topic: Top DEWALT Planer Review
Delta 28-400 14 in. 1 HP Steel Frame Band Saw
The 28-400 from Delta is a band saw that had been enclosed in a highly sturdy steel frame.
Made by a company that has over 100 years of power tool making experience, this is a product that will not disappoint in the very least.
To start, the steel frame on this product is just on another level. It enhances stability and maximizes durability to the greatest possible extent.
With an elegant finish, it is not only challenging but adds a glow to the workspace.
Equipped with a 1HP motor, this product can provide two different speeds, each for another type of workpiece material.
The 1620 FPM setting is for wood and wooden products, and the 3340 FPM setting is for non-iron materials. Using these two settings, you can cut through just about any material.
If you feel that the blade is not tensioned enough, then the two-speed pulley system will quickly solve this issue.
While most manufacturers do not place a great deal of attention to the drive train wheels of the band saw, this product is a notable exception.
Indeed much attention has gone to the wheels, and they have been crafted with aluminum.
Furthermore, they have also been coated with rubber, and each of the two wheels has spokes in them.
This intricate wheel design has been done to make the drive train more sturdy and also keep better track of the blades that the drivetrain guides.
With better blade tracking, safety is greatly maximized, and the blades cut better too.
To ensure precision, you will observe precision ball bearings in place in the upper and lower blade guides.
This makes it possible for the blade to provide highly accurate and exact cuts, giving your workpiece the perfect finish.
JET JWBS-14DXPRO 14-Inch Deluxe
Our final product in this list of the ultimate band saw reviews is the JWBS from JET.
Jet has been around since 1958, and needless to say, they have got a few tricks up their sleeves when it comes to making band saws. This product is their finest and a top choice for many.
The 1500/3000 SFPM blade is safely housed in a sturdy, durable, and highly tough cast iron frame.
This frame helps to keep the essential circuitry and machinery safe and free from damage.
With this product, blade performance is on a whole new level. Due to the upper and lower ball bearings situated on the blade guides, you will experience virtually no resistance while cutting. This will make the cuts smooth and clean.
The poly v drive system is another feature that adds precision to your cuts. It has the function of providing speed preferences and ensures that the blade can be adjusted easily and quickly.
While many blades wear out after prolonged use, this product will seldom give you any such issues to deal with.
The blade guide post features a high tension spring that keeps the blade working smoothly even after several cutting sessions.
To keep track of the blade, this product comes with a unique blade tracking window.
The window allows us to keep track of the movement of the blade in real-time and see exactly where it is cutting.
Finally, the product is equipped with a stand that contains a storage unit. You can opt to store your essential tools here, and this will prevent you from frantically searching for them every time you need them.
What Makes A Perfect Band Saw?
When buying the best band saw for the money, there are a few factors you should consider before making the actual investment.
These factors taken into consideration will help you make the right decision and trade money for quality.
In this section, we will highlight a few key features and pointers that makes a bandsaw perfect, or as close to perfect as possible.
So, read this section to know how you can differentiate the best from the rest!
High-Quality Coolant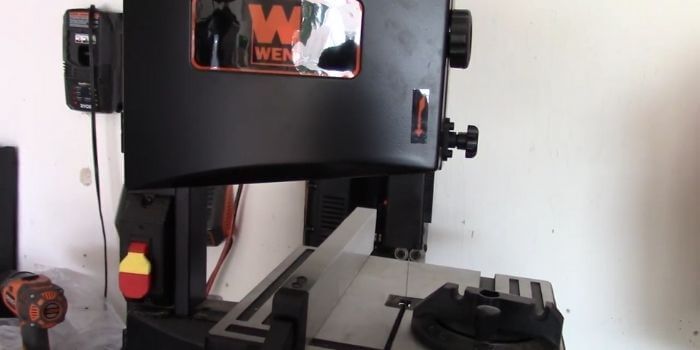 A bandsaw, needless to spell it out, gets very, very hot during use. This is because the blade is powered by a high power, energy-consuming motor, and the blade also moves extremely fast.
Hence, where there is speed, there is heat. A bandsaw can generate temperatures of up to several hundred degrees Fahrenheit.
When this happens, the band saw tends to overheat, which could damage the entire tool unless there is a coolant that keeps things nice and cool.
A coolant is a type of solution that cools the blade and takes away the heat. It also acts to lubricate the blade.
Think of it as engine oil or brake oil for your car. Moreover, a high-quality coolant will prolong the blade life remarkably and will keep things under control.
Usually, for steel blades, a suitable coolant will have ten parts of water to 1 part steel. This provides the best cooling effect.
Hence, for high-quality band saws, the coolant will also be one that provides ample cooling.
A Suitable Blade
Not all blades are suitable, and contrary to popular understandings, a sharp blade is not the only criterion determining how well the blade can cut.
Most blades are engineered for a specific task, and they can perform on particular materials only.
So, for instance, a blade designed to cut wood will be ruined if it is used to cut metal.
Similarly, a metal cutting blade should be used to cut metal only. Band saws are used to cut different items or specific items depending on the use.
So a good band saw will have a blade that is suitable for that exact purpose. For example, if the band saw cuts metals or thick plastics, a hook tooth blade is needed, as that can provide sufficient force to cut through metal.
A band saw used for more general purposes or cutting different items will employ a regular tooth blade.
Thus, blade shape, size, and sharpness all have an equal effect on the band saws performance.
Strong Vice or Clamping
The vice is the part of the band saw that holds or clamps the workpiece to prevent it from shifting during cutting.
This clamp or workpiece holder must be sturdy itself. It will easily displace while the band saw is in operation.
The support should also be adjustable. That means you should be manually able to adjust how tight you want the workpiece to be clamped down.
Good Speed Control
One of the most crucial aspects of a band saw is how well it can change its speeds.
Modern-day band saws are equipped with dials and switches to provide different speed settings.
This is important as various workpiece materials have different cutting speed requirements. Use the wrong cutting speed, and the workpiece will be ruined.
Speed control should be robust, responsive to small changes, and adjust as soon as the dials or controls are manipulated.
Reasonable speed control will ultimately result in much cleaner, smoother and quicker cuts.
Dust Collection System
While this may not be a matter of concern for many people, a sound dust collection system can lead to a cleaner, more organized looking workspace.
To collect dust, many band saws are fitted with extra trays or a dust vacuum. This will vacuum up the dust that accumulates during cutting.
Keep in mind that there will be a lot of dust, so keeping the workplace clean is also suitable for health, as sawdust causes allergies in some people.
Adequate Sized Table
This is also another overlooked aspect when it comes to dealing with band saws.
A small or inadequate sized table is a liability and will obstruct movement. When operating a band saw, you need space, and also keep a safe distance.
For large projects, a large table is essential, as you can get all the work done at once.
Sturdy and Strong Frame
The frame is the exoskeleton of the band saw. Inside, it lies the motor and other crucial components, not to mention wiring.
Strong frames are made of steel in most cases, but cast iron is also used. A high-quality band saw will come with a sturdy and durable structure.
Frequently Asked Questions
Time for the much-awaited FAQ section of this article. No doubt, you have some questions by now, so we are here to answer them. Read on to clear your doubts!
What is the tooth pitch of a blade?
In simple terms, this is the number of teeth per inch (25mm) of the blade.

The number of teeth per inch can determine the quality of a cut. The number of teeth per inch can range from 3 to 25 in large blades.
If I am cutting a very fine piece of wood, should I go for a high pitch or low pitch blade?
A finer section of the material will require a higher pitch. This is because you are looking for precision, and more teeth per inch can provide smoother cutting of thin or fine sections.
The blade is overheating. What should I do?
This is resulting from a lack of or poor circulation of coolant. Get more coolant if needed, or have a professional check out the coolant tubes.
What safety measure should take when operating a band saw?
There is no specific measure to take, as band saws are mostly safe to use.

However, you can wear goggles to protect your eyes. And long sleeve shirts to prevent dust from touching your skin (if you are allergic).
Can I cut curves using a bandsaw?
Yes, you can. Band saws are used for cutting curves and also irregular shapes.
I have a workpiece made of chromium. Can I cut it with a band saw?
Generally, band saws are not designed to cut through chromium. They are designed to cut steel, wood, or plastic (ideally).

However, many new types of band saws can cut unconventional materials, but always check the manual to see if it can cut the desired material.
How long will a blade last?
That depends on how often you use the band saw and with what frequency.

If used strenuously for prolonged periods, the band saw blade would last six months or less.

If used less frequently and well maintained, you can expect a year out of it.
The blade is not cutting correctly and keeps moving. Why is this happening?
One reason could be that the blade has become dull and lost its sharpness. A flat blade will not cut well at all and will have to be replaced.

If the blade is sharp, check the blade adjustments, as it could be attached loosely or come loose.
Final Words
So, did you get the best band saw yet, or are you still unsure about which one to buy?
We hope this article has cleared your doubts and armed you with the required information to invest in the best product.
So, till next time, have fun using the band saw!