As an Amazon Associate, I earn from qualifying purchases
How to Use, Cut, and Install LED Strip Lights
LED strip lights are the perfect solution for any business that needs to light up a specific area. The key is knowing how to use, cut, and install the lights. Here, we will teach you everything you need to know about LED strip lights so that your next project is done with ease.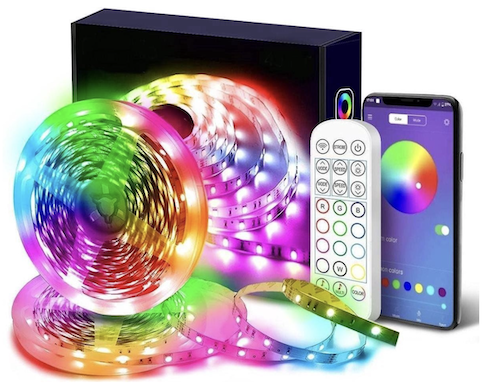 1. Which LED lights to choose
When looking into LED strip lights, it is important to know what you need them for. Strip lights are used in a variety of different ways so making sure that you have the right type is essential to the longevity of your product. Understanding what features are available with each light will allow you to choose which would be best for your project.
LED Flexible Tape: Made of a rubber-like material, LED flexible tape is durable and ideal for use inside or outside. It can bend and be wound into tight spaces and has an adhesive backing so it sticks to nearly any surface. The use of an LED controller is necessary as the lights cannot be hooked up directly to a power source. This type of light is for line – or edge-lighting, which can be added to shelves, signs, bars, furniture, and cabinets.
LED Rigid Strip: Ideal for backlighting desks, counters, stairs, railings, and more. The strip lights are flexible but remain rigid if bent at an angle. It does not come with adhesive backing but can be mounted with screws. If this type of strip light is used in high temperatures, the LED lights will slowly start to go out, so it cannot be used for hot environments like kitchens or near fireplaces.
LED Strip Lights: The most common type of strip lights available on the market today, these come with adhesive backing and are available in multi-packs. The strips are a durable plastic that can withstand temperature changes and have an IP20 waterproof rating, making them ideal for use indoors and outdoors. LED strip lights require a power source and controller to light up properly. Common places where this type of light is used include under cabinet lighting, cove lighting, backlighting, and stair lights.
LED Ribbon Strip Lights: This type of strip light looks like a flat piece of plastic but when turned on, the LED lights create an illusion of gradient lighting. The gradient effect creates the perfect backdrop for signage or displays in store windows. While this product requires more installation steps than other types, it also comes with features that other strip lights do not have. For example, the LED ribbon is water-resistant and can make any surface waterproof. It allows it in bathrooms, kitchens, or around pools.
2. Check the voltage
The type of lighting you choose will determine the power supply. LED strip lights must use an LED controller to be able to work. The voltage range varies from 12 volts to 24 volts, and it is important that you know which one your product requires before purchasing a power source. If you purchase a power supply with a voltage outside of what your LEDs need, it can seriously damage the strip lights. Checking the voltage is the first step to choosing a power source because it helps determine how many LED strip lights can be connected in series.
3. Measure
To ensure that your LED strip lights are long enough to cover the area for which you're lighting, measure the length of your desired path. If there are any obstacles on this path, such as cabinets, cutouts, or doorways, make sure to take those measurements as well so you can account for them when purchasing LED strip lights. For example, if you are looking to light up a kitchen with LED strip lights, the length of the counter space will need to be factored in. Measuring the length not only ensures that you purchase the correct amount of strip lighting, but also can help you determine which type of lighting will be most effective for your space.
4. How to cut LED light strips
Cutting LED strip light is a simple process that can be done at home with no prior experience needed. Follow these steps to get the look you want: First, measure and cut your LED strip lights to fit where you need them. Next, peel back the adhesive backing and place the lights in their designated spot. If there are any visible copper connections, use the wire strippers to remove a small amount of the plastic coating. Once all visible copper is exposed, you can solder on your new connections using your soldering iron. Cutting light strips can also be done using wire cutters if the wire connections are not important to your installation.
5. How to connect LED light strips (soldering)
Soldering is a process used to create secure, long-lasting connections. By applying an iron to the copper base of LED strip lights, you can connect wires that allow electricity to flow between them, creating the perfect connection every time. There are three different types of joints that need to be created while soldering: point-to-point, an "L" shape, and a complete ring.
Beginners should start with the point-to-point method as it is one of the techniques to use for soldering. After peeling back the copper connection on each end of your LED strip lights, place two wires into each slot that has been exposed. Once you have all your connections in place, use your soldering iron to melt the wires together.
Once you get comfortable with this technique, you can move on to creating an "L" shape connection. It will allow for more complicated connections that require spot welding and other processes. The connections should be placed closer together than the point-to-point method because it has a smaller surface area.
Finally, you can opt to completely solder together your LED strip lights for the connection possible. This process only works if there is complete overlap on each side of the soldering point. This technique is recommended for areas where extra security is needed because it has the most long-lasting impression than any other type of soldering technique. Once your strip light has been soldered, it is ready to be powered and installed.
Conclusion
Here you go, we have provided you with everything you need to know about LED strip lights. You can now choose which type of strip light is best for your purposes, purchase the correct power supply, measure accurately, cut appropriately, and solder for a secure connection. All it takes is learning some fundamentals about LED lighting to get the most use out of these products. You can either get a soldering iron and DIY or you buy from the best place to buy LED strip lights store.
After doing some research on LED strip lights, you probably have a good understanding of what they are and why you would need them in your home. The next step is to figure out which kind of strip light will work for you. Many LED strip lights can fit any need such as waterproof strip lights, adhesive backings, and color changes. You should know your needs before purchasing or installing these lights to ensure you get the best results possible.