As an Amazon Associate, I earn from qualifying purchases
Best home design software in 2023 (interior design – paid and free programs)
Best home design software in 2023
When it comes to home design software, they are more than just a computer program designed to assist in designing a home. They go beyond and assist architects and designers with their difficult tasks by making their vision come to life either in 2D or 3D. This will allow for projects to be created in a timely manner without having time wasted.
The tools below have been designed especially for the implementation of a preview, which can be presented to a client before being incorporated into the work.
The following are our picks for the best home design software for 2023.
Design software
SketchUp Pro
With SketchUp, this CAD provides an ideal solution for every type of idea regardless of it being in 2D or 3D. With engineers, designers, architects, and drafters in mind, SketchUp provides a way to supply features that are powerful and of high quality through animation, textures, layer management, or even effects in lighting. You are also able to develop models in 3D consisting of the landscape or furniture within. No matter how much skill the designer has, the results can be achieved with the available tools.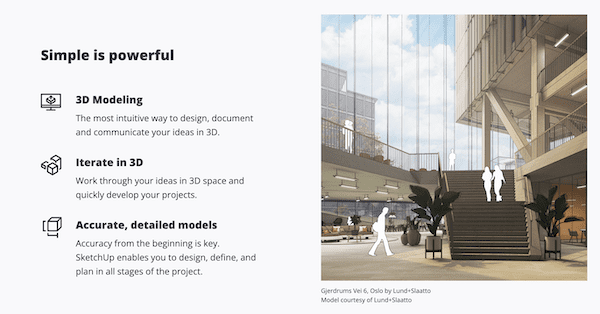 Pros
Access to a digital warehouse
Google maps integration
Easy and simple to use
Cons
Little difficult to maneuver items
Troubleshooting may be difficult with few tools to help
Library seems limited
Pricing
The pricing of $299 seems good for what you get, plus some extras.
Autodesk 3ds Max
With Autodesk, you get software that offers modeling in 3D tailored for games, animation, and visualization. Autodesk allows the user to create renders, models, and animations through an efficient set of tools in order to create content in a quick manner.
Pros
Less amount of time to render
Create modeling
Cons
The lighting and shading are subpar
Difficulty with the controls
Can use some improvement
Pricing
The pricing includes a free trial version and afterward, the subscription price jumps to $185 per month.
Autodesk AutoCAD LT
The Autodesk AutoCAD LT provides drafting in a precise 2D environment that includes apps for mobile and AutoCAD web. This software is centered towards designers, engineers, architects, and the construction field in order to develop 2D documents and designs.
It can document, design, and draft using 2D geometry as well as have the use of tools that annotate, edit, and design work at a faster rate while remaining intuitive. You are able to access the web browser´s ability to draft and design through any computer type, which makes a simplified design come to life. Your AutoCad can be taken anywhere and allows you to work on projects offline, where your drawings will remain created in real-time as well as using any device.
Pros
Detailed documents
Superb generation of presentation
Simple and easy project drawings
Obtain simple dimensions
Cons
Needs improvement for manipulation and 3D view
Needed upgrade for rendering tools
Needs improved tools for collaboration
Pricing
The Autodesk AutoCAD offers a yearly subscription of $660.
Archicad 25
The Archicad software provides information modeling for buildings and complies with the requirements of digital delivery. Offers an environment that is intuitive, collaborative, accurate, and fully automated.
With an integrated design, its workflow can maintain its collaboration with project creators, which allows Archicad an even stronger software to have and assist in keeping engineers and architects on the same page through the model.
Pros
Model is simple and easy to draw
Can obtain real results when integrating with other software.
Cons
GIS file is not easily opened
Requires enhancement of the e.books, add-ons, tutorials, and other resources
Price
For the full version, you will be looking at paying $280.
Autodesk Revit
The Revit software from Autodesk enables you to have many elevations, architectures, and buildings designed. It comes complete with tools for designing so that you can work in a more efficient and effective manner. You are able to center your attention on engineering that is related to structures, MEP, and design.
Your project starts from the initial design and ends when the construction phase begins, which is known as the cycle. This allows the project to be completed productively and precisely.
Pros
Library has a vast array of information
Design is efficient with energy
Easily design landscapes
Elements are parametric
Cons
Editing may seem difficult
Focuses too much on structural design
Price
After the initial free trial, you can expect a yearly payment of $2,545 or a monthly payment of $320.
TurboCAD
With the TurboCAD, you get an advanced CAD for all of your general needs to assist with modeling, design, detailing, and drafting. With the products offered by TurboCAD, every professional designer will love how it works for them while providing huge capabilities at a low price. Their 2D and 3D tools involve constraints in 2D, modeling in 3D as well as a substantial amount of files for graphics that function in an interoperable manner.
Pros
Very versatile
Very helpful tutorials
Excellent services
Understood easily
Cons
May seem slow while providing 3D
Software may become inoperable when upgraded
May be time consuming to use
Price
Turbocad price ranges between $149.99 to $1499.99 depending on which version you opt for.
Live Home 3D Pro
The Live Home 3D software can be integrated for any type of device to allow for renders and designs that are fully detailed. You can easily complete projects quickly and incorporate items and furniture into the spaces. Due to its ease of use for iOS, Windows, and Mac, you can employ the software to its full potential. Not only that but the platform files can be divided between other platforms and allow editing to take place as if it is used on your original platform.
Through Live Home 3D, it does not matter what skill level you are, you will easily save money as you design the project using its free version.
Pros
M1 mac can be incorporated for use
Cost-effective
Tools for editing terrain
Available walkthroughs and rendering in 3D
Simplified use
Cons
Limited landscaping tools
No support layers
No direct support line
Price
For the standard version, you will be paying $9.99 per year. However, there will be a lot fewer features included.
Substance 3D (Adobe)
With the Substance 3D from Adobe, you get to become a part of an evolution that took place shortly after Adobe acquired Allegorithmic. The idea was to become a part of the Adobe family, which has finally happened.
With the new Substance 3D, it is able to enhance the existing app and turn it into a design and paint platform as it also integrates a new Sampler and Stager.
Pros
Outstanding resource and community
Workflow is easily established
Integrates easily with all Adobe applications
Cons
May seem like you are being double-charged
Price
Pricing starts at $19.99 per month for the Substance 3D texturing. Their substance 3D collection is priced at $39.99 per month.
Morpholio
The Morpholio software was designed by architects who imagined an entirely new way to create and design using Apple devices. The purpose was to solve the obstacles that designers faced on a daily level by using technology that was innovative in nature. Today, Morpholio is an essential software tool that many designers and architects utilize worldwide.
Morpholio allows the designer and architect to create with their hands by utilizing their touch screen. The tools used by Morpholio are able to heighten the process for creativity and helping to think critically with the hands.
Pros
The Trace tool enables the user to integrate more sketch versions
Other palettes of color in order for the pens to become improved.
Easy to identify an image's source
A professional look of the output sketch
Cons
Formats for files are limited during file exporting
Conversion work may seem like a lot
Price may seem excessive
Price
The price is free, but the Trace Pro is available for a low monthly price of $7.99
Spoak
With Spoak, it focuses on interior designers who are up and coming in the industry. Its purpose is to make the design more streamlined with the design of the services incorporated more into the spaces.
The Spoak software provides an extra amount of tools used for project management and design as well as members enjoying their own social network. The members are able to save a product through the use of the browser extension. This can seem like a combination of many other software applications.
Pros
Practical tool for floorplans
Unique tools for sourcing and colors
Many tools are together
Cons
Is not a replacement for other software
Visuals may not look great
Price
A subscription for Spoak is a monthly fee of $7.99, while the other subscriptions are a monthly amount of $16.99 or $24.99.
Easyhome Home Styler
The Home Styler is able to create a design that is modern and stylish from home using just a browser and its free version. Many templates are available to get you up and running, the Home Styler is perfect for furniture that is trendy while incorporating more ideas that are fresh and unique.
Pros
Many options for rendering
Good mix of brands
Cons
The instructions are lackluster
Features may seem pushy
Price
A free plan is available, however, a paid monthly Pro can be obtained for $15.90 per month as well as a master plan for $31.90.
Infurnia
The software through Infurnia incurs software for architecture purposes with architects in mind. It has an easy to use interface that is very intuitive and permits any type of design to be created no matter the type of project is at hand. No matter what type of project it is, you will be covered while designing floorplans, to elevations, or even rendering, or generating BOQ. With a great 3D design software, the shapes can be easily customizable.
Pros
Experience not required for use
Designs can be made online or offline
Not required to be a designer for use
Cons
Management is unreachable
Modeling for BIM not available
Price
Free professional version. A monthly fee of $600 is for the business version and an Enterprise version costs $7,500 per month.
Photography software
Adobe Photoshop
As a pioneer in photo editing, Photoshop easily mastered the ability to manipulate images, and as a result, continues to boost its ongoing ability. Whether you need images layered for editing, drawing, effects, or typography, Photoshop is your go-to choice. Any designer can easily use the tools regardless of how advanced they may seem.
With previews of patterns, more and more capabilities are being added continuously. These capabilities include integrating better illustrations, improved gradients, and tools such as Color Transfer and Landscape Mixer.
Pros
Documents for cloud and libraries are synced
Added web design and mobile tools
The interface is sleek and has plenty of assistance
Tools for manipulation and correction of photos
Cons
May feel overloaded by the interface
May seem expensive for premium
No option for license
Price
A monthly fee of $9.99 gives you complete access to Photoshop.
Gimp
With the GIMP software, you get another great option for photo manipulation that involves many functions to give a professional look to every photo you take. You can manipulate any photo or even create unique photos on your own.
There is an abundance of layers, filters, tools for image enhancement, brushes, and a multitude of plugin support.
Pros
Just about every image can be opened
An abundance of tools and various features
Can be expanded easily
Cons
Can seem messy with the interface
Price
GIMP is free to use.
Adobe Capture
The Capture by Adobe offers many tools available that can help create many elements of graphics with just one picture. Using the application allows you to create shapes, themes, material in 3D, and texture right from a phone.
A multitude of items can be obtained that can help you develop images digitally. You can also store or edit them to incorporate them later on by way of other editors.
Pros
Libraries can be created
Elements for granular photos
UI is clear
Adobe CC integration
Cons
No FAQs
Price
The price is free although you will need to pay a low monthly fee of $1.99 to get an extra 2gb.
Project Management tools
Clickup
Having a cloud-based platform such as ClickUp can provide you with simplicity for your business. Many applications are combined for business and can make information centralized into a single option. Members can be assigned different tasks, client projects can be collaborated upon. The tools through ClickUp are able to get the work done in an efficient manner that can be accessed by others.
Pros
Free version available with full features
Dashboard is viewable
Members can be teams or individuals
Cons
Customization may seem like too much
Needs enhanced UI
Features are overabundant
Price
The ClickUp platform features a free trial version. Afterward, the monthly price is $5.00
Notion
The Notion software manages knowledge and connects to many other projects through a single tool. Worldwide teams are able to implement it so that employees are always in the loop and work cohesively together. When working together in a cohesive manner, the staff can use Notion to maintain focus as tools get consolidated, which saves time and increases the amount of production.
Pros
High-quality database
Provides organization and collaborating efforts
High amount of compatibility
Cons
Unreliability with notifications
Tools are not integratable
Subpar mobile
Price
Pricing for personal use is free. The pricing for personal pro is $4.00 per month. The monthly plan for the Team is $8.00
Gather
Providing a solution that is comprehensive is what Gather is all about. This lets your business to manage everything efficiently so that work flows smoothly. The tools available on the platform cater to many industries such as venues, hospitality, and restaurants so that they can perform the complete task from start to finish. By being cloud-based, Gather is able to be used worldwide through both iOS and Android devices.
Pros
Booking and scheduling is handled easily
The process for events can be accelerated
Cons
Not available for desktop
Price
Pricing begins at $199.00 per month after its free trial ends.
Ivy
Managing your business just got simpler with Ivy. The platform lets you take control as it has you in mind so that your business remains as profitable and efficient as possible. You are able to obtain your products from your favorite sellers or make your catalog customizable through its Product Clipper. You will be able to impress others when they see your professional invoices and proposals.
When your ideas come alive, you are able to create, build, and share client relationships and experiences. With Ivy, you will never be on the lonely trail throughout your business career.
Pros
Able to manage budgets
Available tools for collaborating
Portal for Clients
Cons
Portfolios can´t be managed
Milestones can´t be tracked
Price
A monthly fee of $59 is obtained. A free trial of Ivy exists as well as a free version.
CoConstruct
With CoConstruct, you get software that is also intuitive for a remodeler or home builder. It is full of various features that assist managers in handling construction efforts no matter what point of the construction phase they are at. The amount of developer support is abundant and the price is considered pretty affordable.
Pros
Customer support is great
Ease of use
All-inclusive
Cons
Not available for free
Residential focus
Limited integrations
Price
The monthly price begins at $49 and can be as high as $199 when you fail to achieve a milestone.
Mydoma Studio
Another cloud-based software, Mydoma focuses on solving managing projects for a variety of home stagers, interior designers, and interior decorators. The software can be implemented by a team or individual. The features involve editing, collaboration, managing design processes, and creating packages.
Pros
Many features for project management
Individual access logins
Nicely designed
Cons
Will feel double-charged
Limited integration
Requires improvement
Price
Includes a free version and free trial. Following the free trial, a monthly $59 is charged.
Studio Designer
Managing design projects is now simple with Studio Designer and it allows you to keep the entire project integrated. Whether it is billing, accounting, or sourcing products, Studio Designer can get the job done. You will be able to manage the activities of the team and create invoices for the projects.
Payments can be accepted through a single source and have finances managed through tools for the interior designer. You can access the cloud no matter where you are. The training is individualized and includes tutorials via video. This allows you to get your design business started sooner than later.
Pros
Combined project management and accounting
Access is provided for all clients
Durable reporting that provides many details not seen anywhere else
Cons
Longer time to complete tasks
Tasks could fall behind
Price
You will be paying a monthly fee of $44.
Design Manager
As a leading software for accounting and project management, Design Manager is perfect for the interior designer. Initially started for interior design efforts, it gradually became nationwide and one of the first cloud-based software providers. The software is able to solve many unanswered questions that many firms have. With Design Manager, you will save both time and money without feeling frustrated with tons of documents.
Pros
Easily collects data
Reports provided
Tracks all components and items
Cons
Is not cheap
May require time for design setup
Price
A free trial is offered, then the price goes to a monthly fee of $65.
Monday.com
As a system for project management, monday.com was developed to provide flexibility to get your work done in an organized fashion. Its interface is appealing as it makes scheduling easy and customized. It is able to allow members to adapt to the way projects are handled.
Pros
Templates are included
Can be customized
UI is modern
Cons
Need more time to get used to the app
Options for navigation are inconsistent
Payment plans and pricing are confusing
Price
A two-week trial is provided for free. Afterward, the monthly fee goes up to $49.
Bloo
With the Bloo software, you get a nice combination of files, calendars, and boards that are able to manage tasks that are difficult. It is also able to help with accessing files, to-dos, boards, and tags in a single space.
Pros
Is not expensive
Easily navigate the platform
Has the user in mind
Cons
Report-free
Chart-free
No need to manage resources
Price
The price is categorized as standard or enterprise. The standard price is $500 per year and the enterprise begins at $10,000 per year.