As an Amazon Associate, I earn from qualifying purchases
Christmas is the most wonderful time of the year for many people, but it can also be an expensive holiday. One way to save on this festive season is by choosing energy-efficient outdoor Christmas lights that are designed to last.
Here are seven tips on how to choose the best outdoor Christmas lights for your home.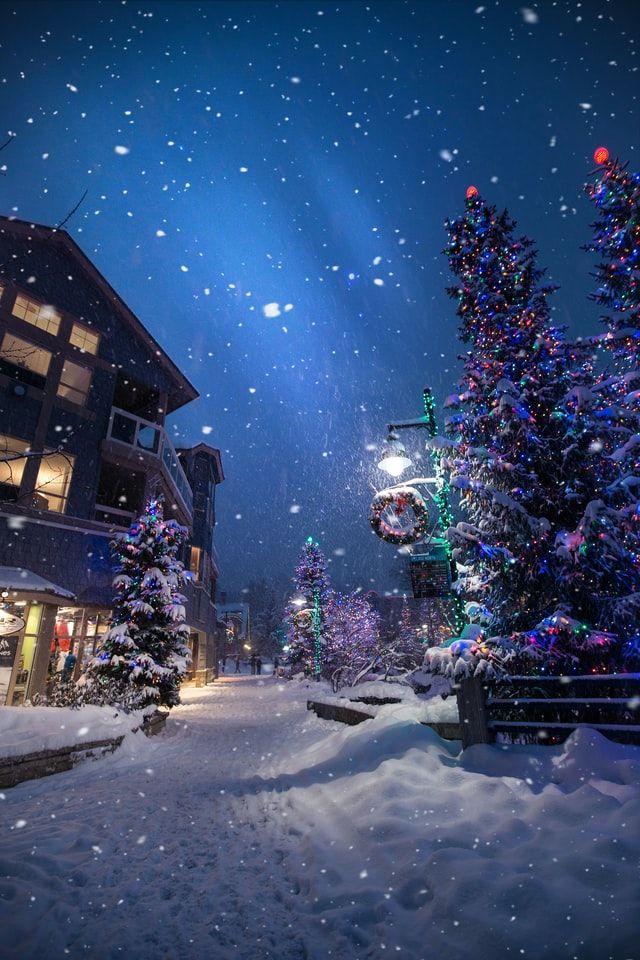 Photo by Roberto Nickson on Unsplash
The best Outdoor Christmas lights
1. Decide on your budget
The first thing you need to do is decide how much money you plan to spend on your lights. Buying cheap Christmas lights may seem like a good idea, but they will only cause additional expenses later when you find that most have burnt out and can be expensive to replace.
Similarly, investing in expensive lights may not be necessary if you are not spending a lot of time decorating your home. Remember that lights do not need to be replaced every year, so it is better to invest in quality Christmas lighting the first time around instead of buying cheap lights every season.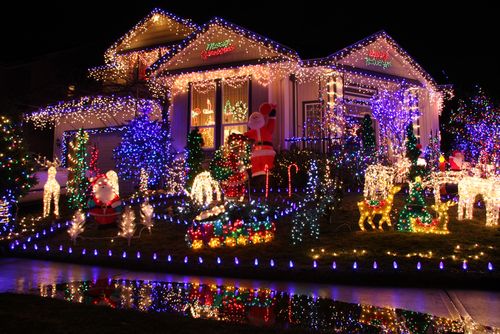 (shutterstock)
2. LED lights or incandescent lights
LED Christmas lights come in different shapes and sizes, and they are available in a variety of colors. They consume much less energy than incandescent lights and last longer.
LED Christmas lights also present safety benefits: they emit almost no heat so there is no fire hazard, and children can safely handle them without getting burned.
However, you will need to buy a LED light string that matches the power source of your existing Christmas lights.
For instance, if you have a set of incandescent Christmas lights with an alternating current (AC) power source and dimmer switch, you will need to replace them with a plug-in LED light string.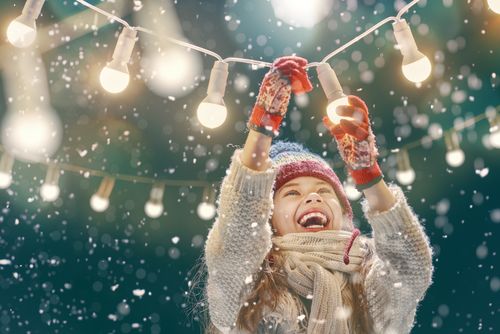 (Shutterstock)
3. Types of Christmas lights
There are a variety of outdoor Christmas lights to choose from, so you will need to decide which type is best for you. Here is a list of the most common types to help you decide:
C7 and C9 Christmas lights: These are classic designs that have been used for decades. They are inexpensive and work well in both indoor and outdoor settings. However, because they emit 30-90 lumens per bulb, they aren't as energy efficient as LED lights and cannot be used with dimmer switches.
Mini Christmas lights: Mini lights use less energy than C9 and C7 lights and come in different colors and designs to match your holiday decorations. They can be used indoors or outdoors, but the wire insulation isn't as durable so, they aren't suitable for heavy-duty applications.
LED icicle lights: These lights produce light in a narrow beam and can be aimed at specific areas, which makes them perfect for creating visual interest and highlighting certain features. The bulbs are attached to a string that is made of durable coated wire, and the design of the bulb itself prevents moisture from getting inside.
LED net lights: If you want to decorate your roof, fence, or gutter with lights, they are the best option because they are durable and weatherproof. You can also cut them into different shapes to create visual interest.
LED strip lights: These high-quality strips of light are perfect for creating a dramatic look in your home. They come in various colors and designs and are available in warm white, pure white, blue, green, red, yellow, and more.
LED rope light: LED rope lights are versatile and can be used for both indoor and outdoor applications. They offer a unique starburst pattern that creates decorative effects on buildings or trees.
LED Christmas tree lights: These energy-efficient lights are designed to replace incandescent mini lights and produce a stunning effect on Christmas trees. However, because they emit 90 lumens per bulb, you will need to buy a light string that matches your power source.
4. Installation
Some people prefer to handle the installation themselves while others hire a professional, especially because the installation of outdoor Christmas Lights can be quite tricky!
If you want a hassle-free experience, we recommend going with plug-in LED Christmas lights that can be plugged into a standard outlet and don't require any other equipment or installation.
Alternately, you can also go for battery-powered LED lights that allow you to place them anywhere without a power outlet.
If you are using LED Christmas lights outdoors, then make sure to keep them away from moisture, snow, and other elements that could damage the wire insulation. Also, consider using hooks to secure them in place so they won't get blown off during a windy day.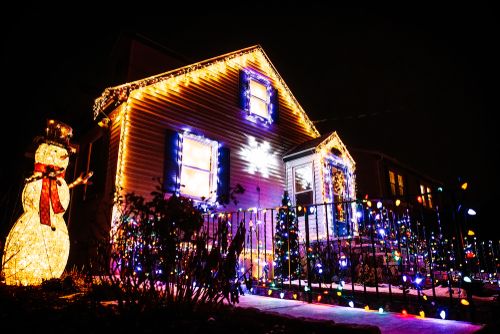 (Shutterstock)
5. How many strands will you need?
The number of strands you will need depends on your application. For indoor use, a single strand is usually enough to create the desired effect.
However, if you are covering a large surface area or want to brighten up an entire room, you should buy more than one string of lights.
If you are decorating your house for Christmas or other holidays, you should keep in mind that some of the strands will be left on when other lights are turned off at night. In this case, it is a good idea to use energy-efficient LED Christmas lights because they offer a better value for your money.
Also, make sure to combine different types of lights (C7, C9, mini, icicle, etc.) to create the desired effect. For example, you could use icicle lights along your roof while using LED rope or net lights to highlight some of the architectural features.
6. Electricity cost and energy efficiency
Because LED lights use less energy than traditional incandescent bulbs, they cost significantly less to operate. This means you can save money on your electricity bill and prevent a potential hazard in the form of excess heat generated by the lightbulbs.
However, if you choose to go with traditional Christmas lights or mini lights, then make sure to use them efficiently by avoiding leaving your lights on overnight or when you are away.
Also, make sure to turn the lights off when you leave your house and keep them away from any heat sources that could damage the wire insulation.
7. Energy-saving Christmas Lights
Energy-saving Christmas lights are a great option if you want to save money on your electricity bill and reduce the impact on the environment. The best part about using LED Christmas lights is that they have a much longer lifespan than standard Christmas lights, which means you will need to replace them less often.
In addition, most energy-efficient holiday lighting options save power when they are on, which ensures you get the most out of your purchase.
Also, if you want to go the extra mile and save even more money, consider using a power strip with a timer or automatic shutoff feature.
(Shutterstock)
Conclusion
LED Christmas lights are the best option if you want to save money on energy costs, decorate your home in a novel way, and reduce your carbon footprint. In addition, they offer several benefits that traditional incandescent bulbs don't have as durability and long lifespan.
If you are looking for the best option on the market, we recommend going with GE's LED M5 Christmas lights because of their superior design and energy-saving features.
However, if you want to save money, you should stick with our budget pick. Finally, if you prefer a hassle-free installation process, opt for GE's plugin or battery-powered lights.
Best Christmas Outdoor Lights: buyers guide
More about Christmas decoration