As an Amazon Associate, I earn from qualifying purchases
Setting Up An Indoor Hydroponic System For Home
What is an Indoor Hydroponic system?
An indoor hydroponic system is a self-contained unit that utilizes the process of hydroponic gardening to grow vegetables, herbs, and many other crops. This alternative agricultural method eliminates soil and its microbiology in favor of feeding plants through nutrient-rich water.
Hydroponics can be used anywhere from a small apartment balcony to large commercial greenhouses with varying degrees of difficulty. Hydroponic gardening has become a popular method for growing various plants, from vegetables to flowering plants. With this method of growing, you don't need soil because the nutrients are already present in the water that your plants receive.
The only downside to this system is that it requires some technical know-how to maintain and operate correctly.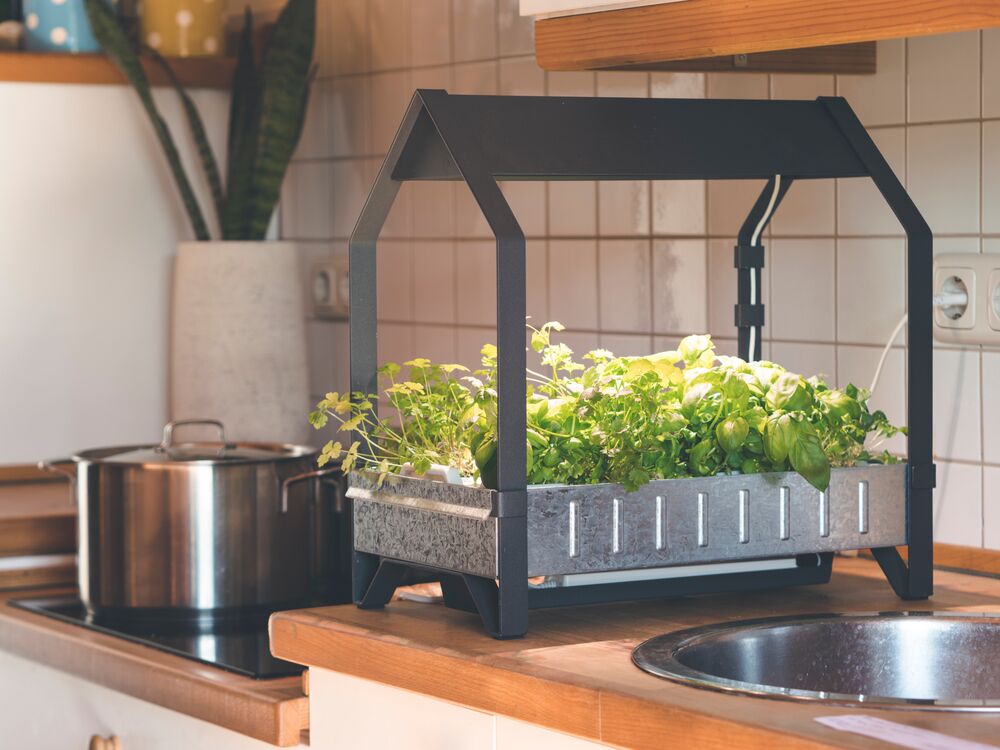 What materials do you need?
To start growing inside your home, you need a few basic materials. Although this list may seem small and not too expensive, it requires some research and planning before starting your indoor gardening system.
1. Hydroton hydroponic growing medium – This is an inert foil-type material used in almost all hydroponic growing systems.
2. Aeration System – The aeration system provides oxygen to the roots of plants. This is one of the most important factors for plant growth.
3. Nutrient Solution – The nutrient solution is a mixture of nutrients absorbed by the plants and helps them grow.
4. Plant support – To keep your plants off the floor and away from growing media, you will need some container or stand to give your growing plants stability. This can range from PVC pipes and wire shelving to store-bought potting stands…etc.
5. Water supply – This is one of the key parts in growing inside your home. Whether it be a water purifier, well, or rainwater, you will need to find a source of clean water for your indoor garden.
6. Timer – Using a timer, you can set when your plants get watered and when they get light exposure throughout their growing cycle; this is one of the most important factors in growing plants indoors.
7. Lights – You will need some light fixtures to grow your plants if you are planting indoors. Although sunlight is important, it is not always possible to have a window in your home where you can get direct sunlight. There are many different types of grow lights available on the market; two basic indoor garden lights include High-Pressure Sodium or Metal Halide bulbs and Compact Fluorescent Lights. Each has its benefits and presents different heat output or bulb replacement problems.
8. Watering Can or Bucket – You need something to hold your plant's water supply. A bucket works well since it is easy to carry and store. Watering cans may have a more decorative appearance and are easier to fill but should NEVER be used for carrying water for the plant; it is very easy for bacteria to contaminate the water supply.
9. Various Electrical Wiring – When connecting newer electronic devices like air conditioners, lights, and other electronics, you will need electrical wiring.
10. Thermostat – A Thermostat is an instrument that measures temperature changes and turns electrical heaters on or off. For example, if you have a light bulb that runs out at a specific temperature, it will turn the light off. If you change the temperature of the bulb or add more heaters to make up for a loss of heat, then the light will stay on.
How to set up an indoor grow system at home
1. Decide on your location – The first step is to decide where you would like to grow your plants. Some plants are well-suited for growing indoors, others can merely be grown in a pot or container on a cabin floor, and others still should be grown outside.
2. Get the right equipment – What growing medium you will use will depend on how close you are to a hydroponic supply store or your supply of nutrients and minerals for your plants. To make your indoor planter easy to clean, use a pot or container with drainage holes and a separate area for the growing medium. Your food-grade buckets are perfect. Remove the labels from them and rinse them out well with hot water, then fill it with the growing medium of your choice.
3. Plant your seeds or seedlings – Every plant is different and needs to be grown in a slightly different way to get optimum results. The first step is deciding what you are growing and then deciding on your plants' water and fertilization needs.
4. Watering – Watering your plants at the right time and in the right amount will keep them alive. If they get too much or not enough water, they will die very quickly! If your plants are dry, check the soil every 5–7 days until it is moist again. Once a week to two weeks is all that is needed if you grow in a container with a drain hole
5. Feeding your plants – If you are growing a plant that requires nutrients in its water, you will need to make sure to get the right balance of nutrients for your plants. There are many different systems available to feed your plants, and it is recommended that you feed them with a fertilizer geared towards the type of plant you are growing.
6. Protect your plants
From the sunny window of an apartment to the cool shade of your home, plants need all sorts of care and attention. Although there is no need for concern about watering your plants, air conditioners and other electrical equipment can become a problem if you leave them on 24/7.
Best systems for beginners
Listed here are some of the best systems for someone who would like to begin growing their plants at home.
Aeroponic Propagation – this method uses a pump that sprays water on the roots of plants. This method is also used as a growing medium alternative to Rockwool as it helps cut down on growing media costs. The only problem with aeroponic Propagation is that it does require some specialized equipment and can be somewhat costly to install.
Hydroponic System – A hydroponic system uses water, nutrient solution, and plant support to grow your plants in a soilless environment. With each hydroponic growing process involving a different mechanical device, this is probably the easiest growing system to use. The only challenge with setting up a hydroponic system is that it can be slightly more expensive than other indoor growing systems.
Continuous Culture System – Also known as a recirculating aquaponics system, this indoor growing system takes advantage of the natural environment to provide your plants with the proper amount of water and nutrients. This method is also very low-cost because it relies on recycled materials instead of purchasing new ones. However, this system has some problems, including a temperature problem and the need for a drain.
Soilless growing system – A soilless growing system uses no soil and instead provides nutrients to the plants using nutrients in the soilless medium used. This indoor growing system saves money to supply proper amounts of water and nutrients to your plants. While this is a straightforward indoor growing method, it also has its limitations, such as the need for constant monitoring of the moisture level and other vital details.
Air-Pump Hydroponic System- A siphon hydroponic system is an alternative to growing your plants in soil because it relies on the natural ability of water pressure and air to provide your plants with water. The advantage of siphon hydroponic systems is that they use the carbon dioxide released through the roots to boost plants growth at all times instead of relying on the natural process. In addition to being an indoor growing system, this siphon system uses no soil, which is why it is also known as a no-soil hydroponic system. Another disadvantage of this system is that it is difficult to control the overall water level in the root zone if you grow plants in some media.
Soilless Root-Zone System – this method uses no soil and relies solely on nutrient solutions to nourish plants. The only problem with this system is that it requires regular maintenance to keep the plant alive. The main difficulty with this method is that it is very difficult to control the amount of water and nutrients available for your plants because you have to monitor the soilless medium constantly and add more essentials for the nutrients in your medium.
Agroforestry System – This system hybridizes an indoor growing system and an organic gardening method. This growing method is ideal for the residential gardener with a layered or vertical growth system. With this system, you will be able to harvest your fruits and vegetables without pesticides and chemical fertilizers. The only downside of this system is that it can take some time to learn how to maintain its structure and follow a certain routine to ensure maximum yields at harvest time.
Best crops for an indoor Hydroponic system at home
Seeds, Dried seedlings, and cuttings are the three most common ways to start plants for surface hydroponics. But there are other methods, too, like direct sowing, layering, and softwood cuttings that can provide better results. Seeds are the best form of starting any plant because it can take over a month for seeds to germinate and mature. The most common way is to use a flat or tray planting structure with a nutrient solution that you can buy at a nursery.
Dried seedlings are more accessible to start than seeds because you don't need to wait for the plants to be mature. You can start with tiny seedlings and then grow them into the desired shape of your plant later on. Dried seedlings can be found at your local nursery.
Cuttings are small branches from a tree, plants, or shrubs. They are used to grow a copy of the original plant and can either be rooted in soil or into a soilless growing medium. Cuttings are usually taken from young, healthy plants that have not flowered yet as these contain more energy to produce another identical clone when they reach maturity.
The following are some of the most popular plants and vegetables to grow hydroponically:-
Lettuce: lettuce is an excellent choice for hydroponic systems because they are easy to grow, and you can eat them as they grow. They are also great for growing in your garden or on the patio. You can both eat their leaves and the head of lettuce as well.
Tomato: Tomatoes are great plants to grow in hydroponic systems because when you plant them in the ground, they tend to take over your garden and become extremely difficult to take care of. Plants grown indoors don't have that problem. They are easy to grow in a hydroponic system and can produce a ton of tomatoes for you.
Herbs: Herbs are some of the easiest plants to grow in water. They are great because they can be grown both in hydroponic systems and soil and on the patio. Herbs have more flavor than most other plants, so they can spice up any meal no matter where they are grown.
Peas: Peas are great for growing in hydroponic systems because they produce an impact on your wallet. Growing them with your indoor plants will help you eat healthier and lose weight. They are one of the few vegetables that can be grown inside and outside.
Endive: endives are easy to grow in large amounts; they have a short life span, so they don't need to be as tended to. They also look nice when chopped up and added to salads or stews.
Chard: chard is another easy to grow kale-like plant. The leaves of chard are very thick and can be used in salads. They also taste great when cooked with other vegetables.
Spinach: spinach is another easy-to-grow edible leafy vegetable that is hardy in cold or hot climates, so it can be grown indoors and outdoors. It has a short life span, so it doesn't need much tending.